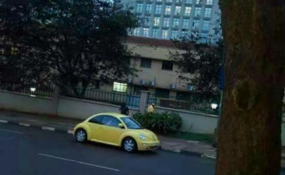 Photo: Daily Monitor
By Sadab Kitatta Kaaya
Tempers flared at parliament yesterday as two MPs exchanged blows in the full glare of cameras.
MPs Bernard Atiku (Ayivu) and Ibrahim Abiriga (Arua municipality) had to be separated by police and onlookers just outside parliament's main entrance.
It all started after Abiriga, who was with a group of journalists, abused Atiku who was walking towards his car in the parking lot.
"You see that man, he is a fool, he is stupid," Abiriga said while pointing at Atiku.
Atiku stopped to hear what Abiriga, clad in his trademark yellow outfits, was telling the journalists.
"We were watching the Onduparaka game [with Maroons on Saturday in Luzira], that man [Atiku] gave some football fans money and told them that I and Evelyn Anite [State minister for Investment and Privatisation] are non-Ugandans, that we are Congolese," Abiriga said.
Abiriga and Anite are some of the most vocal supporters of the proposal to scrap presidential age limits from the Constitution.
Atiku, on the other hand, is among the MPs opposed to the proposal. During the Luzira game, some youths displayed placards denouncing Anite and Abiriga.
"How can he say that I am Congolese yet I come from Rhino camp [in Lower Madi, Arua district]?" Abiriga wondered.
After listening to Abiriga's rants, Atiku changed course and walked to Ngora MP David Abala. Still, Abiriga interrupted their chat.
"You man, don't talk to that fool," Abiriga told Abala who retorted "But you are also a rebel."
Incensed, Abiriga walked up to the two MPs to fight Atiku. He threw a punch at Atiku but the retired army officer was overpowered.
Abala was joined by police officers manning parliament's main entrance to separate the two legislators from Arua. The fight came hours after Kawempe South MP Mubarak Munyagwa advised his NRM colleagues to prepare for physical confrontation.
"I want to tell my NRM colleagues who are pushing for this amendment; if you don't trust your martial arts tactics, better get off this campaign. We are serious about this, we shall sort ourselves out one-on-one should that bill be tabled," Munyagwa said.
Abiriga has been away from parliament for at least two weeks. He returned yesterday and immediately joined his colleagues to mobilise for Thursday's anticipated tabling of the motion seeking to amend Article 102 (b) of the Constitution.
While Abiriga asked for water immediately after he had been separated from his more youthful colleague, he later claimed to have dodged Atiku's kicks and punches.
Atiku said he was forced into the fight by the provocative Abiriga.