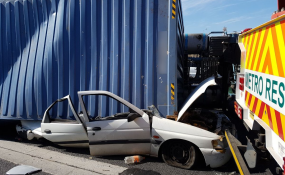 Photo: ER24
A horror truck crash has closed the inbound lane of the N1 at the Koeberg interchange in Cape Town.
It has been reported that a truck crashed into a passenger car.
Twitter users shared images of a container truck on top of a white Ford Escort, and said that the road has been closed.
The City of Cape Town Traffic Radio Room confirmed the incident that occurred at 09:30 on Wednesday.
"They just now opened one lane into Cape Town," an official told News24.
No deaths have been reported so far, but the official confirmed injuries.
"The guys are still busy on the scene," the Radio Room official said.
Source: News24