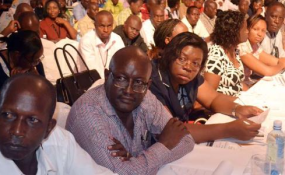 Photo: Daily Nation
By James Ngunjiri
The Institute of Certified Public Accountants of Kenya (ICPAK) is set to expand its footprint to Australia this week when it opens a branch in Sydney to cater for its members working there.
This will be ICPAK's third international branch after South Africa and the United Kingdom. The launch of the branch will be held on the sidelines of a five-day ICPAK Australia chapter seminar that kicks off Tuesday.
"In tune with our vision of being a world class professional accountancy institute, ICPAK is committed to supporting its members wherever they are in the world while at the same time support Kenyan accountants in accessing business and professional growth opportunities abroad," ICPAK said Monday.
The institute said the Sydney branch would bolster work partnership between accountants in Kenya and Australia.
The UK branch was the first to the inaugurated in 2012 and currently has about 50 members, while the South African one was opened in 2014 with 50 members.
The institute has over 20,000 active members in Kenya, and over 30,000 people who have certified public accountant (CPA) qualifications are yet to become members.