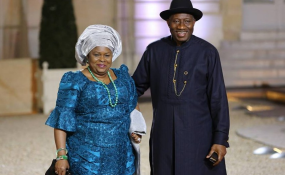 Photo: Premium Times
By Emman Ovuakporie
Abuja — The House of Representatives committee yesterday, ordered some banks to immediately unfreeze accounts of former First Lady, Mrs Patience Jonathan.
The committee also ordered Aridolf Wellness Home and Spa owned by the former First Lady, to pay its outstanding N10 milliion tax to the Federal Inland Revenue Service, FIRS.
The development was sequel to the determination of a petition brought before the House Committee on Public Petition by Granville Abibo (SAN) and Co Legal Practitioners on behalf of the Dame Jonathan against Economic and Financial Crimes Commission, EFCC, NDLEA and others, on the persistent and unwarranted personal attacks and harassment by the agencies.
The directive was given at the resumed investigative hearing of the House Committee, just as EFCC failed to show up after series of letters were written to it without response.
During the investigative hearing, the committee discovered that some of the banks acted beyond what they were demanded of by the anti-graft agency.
Meanwhile, the committee gave Ibrahim Magu, EFCC's acting chair up to October 4 to appear before it or it will issue a warrant for his arrest.
The committee's decision followed a motion by Kingsley Chinda (PDP, Rivers), who said Magu should be arrested and be compelled to appear before the panel on the next adjourned date for refusing to honour their invitations.
Similarly, the panel asked Mrs Jonathan's lawyers and FIRS, to reconcile their positions on an alleged tax default of over N10 million.
FIRS had said that Aridolf Resort Wellness and SPA, owned by Mrs Jonathan, failed to pay taxes despite serial reminders. However, her lawyers insisted that they had paid all their taxes.
After listening to all the complaints and defence, Chair of the committee, Rep. Uzoma Nkem-Abonta said, "We are not siding anybody, but the committee hereby direct all the banks concerned to defreeze all the accounts that have no specific restraining order from any court or EFCC."
Mrs. Jonathan's counsel who accused the EFCC, which did not send a representative to the hearing, of waging a media trial against the former First Lady, stressed in the petition that "of all the former First Ladies of this country, only the NGOs of our client had been singled out for emasculation by the EFCC, with repetitive raids on the offices of the NGOs, and unwarranted freezing of their accounts, even without any lawful court order(s)."