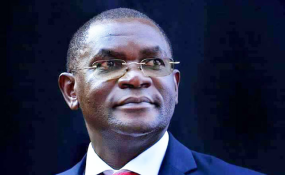 Photo: The Independent
By Agnes Nantaba
Renowned stage and movie drama actor Charles James Ssenkubuge aka Siasa is cocky, with a loud laugh, and a natural suaveness - what is sometimes called swag. It is, therefore, not surprising that he is a dominant figure in Uganda's entertainment industry circles. That he has spent 35 years in the limelight merely adds to his clout.
Although he had for years been on stage with plays like "Ndiwulira" and TV with the 1990s series "Kigenya Agenya", Ssenkubuge became a true household name when he took the radio airwaves by storm as part of the Radio Simba FM early morning show, 'Binsangawano' crew. His acting career is so powerful that even his contesting as a presidential candidate in 2001 - which many would highlight as a peak of their life, is a mere blip for Ssenkubuge. Today, he works as the General manager and Special Programmes Director for Salt Media.
"Pastor Bujingo had heard about me and loved my radio work but he also knew that I had accepted the Lord Jesus as my personal savior in 2007 so he called encouraged me to work with him," says Ssenkubuge.
It all started at Kampala High School where Ssenkubuge and colleagues like Aloysius Matovu and Andrew Benon Kibuuka started acting to pass exams rather than make money. As students of literature, Ssenkubuge says they chose to live the characters in one of the plays, 'The road' by Wole Soyinka for an easier understanding.
The acting was a success and Ssenkubuge soon joined Kampala Dramactors. He recalls first foray was with a play titled 'Mr. Kateete'; a political theme which did not please then-president Milton Obote and the group was disbanded and in 1982. It morphed into Bakayimbira Drammactors.
Ssenkubuge started writing his own scripts kicking off with 'Agaali amakula' that would later be picked on as a set book for A-level literature. It depicts a home suffering loss of one parent. Ssenkubuge says it had hints of autobiography.
"I lost my mother, Evan Norah Nakintu Mugambe in primary seven and the environment changed," he says, "We got detached from our father." He says play was a massive hit because many identified with the sorrow and tribulations depicted.
Ssenkubuge has maintained that trait of observing real life experiences keenly and arranging them into plays or performances.
Even at Makerere University as a student of Literature and Philosophy, Ssenkubuge still juggled school and acting. Four years after graduation and working with a clearing and forwarding company, Ssenkubuge was awarded a contract with ministry of health to write a play on HIV/AIDS. This was during the scourge's peak. It was also personal as he had lost four siblings to AIDs. He came up with 'Ndiwulira' cautioning people about HIV/AIDS. It was so successful it was was commissioned by President Yoweri Museveni and toured the whole country.
"It was Bakayimbira's greatest achievement," Ssenkubuge says. Today, he boasts of writing over 50 plays/ scripts. He says he has retired from stage acting.
Born on December 2, 1962, Ssenkubuge is the last of 23 children of the late Fenenkasi Mugambe. He recalls fighting and killing snakes from as early as eight years as the home was located in the middle of the forest. But he says they are fond memories.
He went to Ssanda Primary school, where his fondest memory was when two helicopters landed in the neighborhood followed by truckloads of soldiers. He would later learn they were searching for of a British High Commissioner who had reportedly gone missing and was later discovered in hiding with an African girl. He went on to Uganda Air Force Primary School Entebbe, Old Kampala Senior Secondary School, Kampala High school and Makerere High School from where he joined Makerere University to pursue bachelors in Literature and Philosophy and later Masters in Drama.
Ssenkubuge is married to Agnes Lillian Ssenkubuge whom he met at Makerere University and they have four children. Ssenkubuge says although theatre seems to be fading, TV could be the savior as it is on the lookout for local content.
****
Charles James Ssenkubuge's Liteside
Any three things we don't know about you?
It's now ten years since I accepted Jesus Christ as my personal savior. I did it silently for not wanting to be overwhelmed and indeed, it has worked as people can tell the changed personality in me. I am a pastor at Gospel Lite Independent Baptist church in Kansanga. I am also a very kind person.
What is your greatest fear?
The fear of sin; I fear for if the Lord returns now, will he find me ready. As human beings, we make so many mistakes but repent less and that worries me a lot.
What is the trait you most deplore in yourself?
I am a very shy person which many people can refute. However, being shy is one of the ingredients of a good actor.
What is the trait you most deplore in others?
Talking unnecessarily; I hate people who talk unnecessarily a lot although I've learnt to deal with the different characters in people. I don't allow to be influenced by other people.
Which living person do you most admire?
I admire President Museveni for his ability to rule Uganda for more than 30 years.
What is your greatest extravagance?
I often give away my money but I pray to God to help me reduce because I can give away money when I too have pressing needs.
What is the greatest thing you have ever done?
It's still under construction and just about to materialise. I have been working on it for so long so in a period not so far from now, it will explode.
What do you consider the most overrated virtue?
I may not know the most overrated virtue but one weakness I have observed about Ugandans is the growing begging culture. Many Ugandans have been made to believe that begging from one person to another is no problem and yet we have to instill a culture of hard work.
What does being powerful mean to you?
Being able to stand in for others like Jesus did.
On what occasion do you lie?
When someone needs money from me and I have not yet got the money, I would rather tell a lie especially when I am short of words. But we all tell lies especially on phone.
What do you most dislike about your appearance?
I believe that I don't look bad and I don't know how it feels like to be taller or shorter so I am comfortable.
Which living person do you most despise?
Presidents Kim Jong-un and Donald Trump for being careless yet they are in control and have the ability to avoid havoc. One of them should come out smarter to avoid havoc.
What is the quality you most like in a man?
Caring, hardworking, loving, comforting, listening, problem solver and protective of others.
What is the quality you most like in a woman?
Loving and listening .
What or who is the greatest love of your life?
My wife, Agnes Lillian Ssenkubuge is ever there for me and even before I got born again, she used to understands me and the environment around me. God manufactured her specifically for me.
When and where were you happiest?
I am.
Which talent would you most like to have?
Nothing beats being an actor.
What do you consider your greatest achievement?
Being an actor for the last 35 years is not a mean achievement.
Where would you most like to live?
Uganda but particularly in my home village for the green vegetation and relaxed environment.
What is your most treasured possession?
My art and talent of communication; I always thank God for my voice and even when I went for insurance, I only insured my voice.
What do you regard as the lowest depth of misery?
I have been very lucky to have come out alive and never hit during the hardest political times. But being tortured is incomparable .
What is your favorite occupation?
Being a servant of God.
What do you most value in your friends?
No betrayal, caring, and straight forward.
Who are your favorite writers?
Ngũgĩ wa Thiong'o and Chinua Achebe talk about things happening around us. They organise events and write about them to address issues affecting people.
Who is your hero of fiction?
Alex Mukulu has managed to put up spectacular performances to an international level and Marian Ndagire is persistent and tells good stories.
Which historical figure do you most identify with?
Mahatma Gandhi's thinking about humanity, Nelson Mandela's selfless efforts as a visionary leader and Princess Diana.
Who are your heroes in real life?
The world is without heroes.
What is your greatest regret?
I don't regret anything.
What is your motto?
Do you see someone skilled in their work?
They will serve before kings; they will not serve before officials of low rank.
****