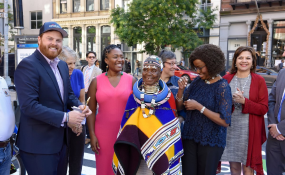 Photo: CitiBikeNYC/Twitter
By Socrates Mbamalu
South African contemporary artist Esther Mahlangu was honoured in New York City with a mural dedicated to her painted on the streets of New York by Imani Shanklin Roberts, a New York based artist. We are proud of Mahlangu's achievements, and recognition.
South African artist Esther Mahlangu has been honoured with mural of her work adorning the city of New York in their bold and beautiful colours. The mural is located in Tribeca at the Citi Bike Station and was created by Imani Shanklin Roberts.
For Imani, there was nothing more rewarding than having to create the mural in honour of an artist she has known all her life, Mahlangu. Mahlangu first came into prominence in 1991 when she did an art installation for BMW. She painted the BMW 525i with images inspired by her Ndebele heritage.
Mahlangu became the first woman to paint a BMW Art Car. 25 years after her first painting for BMW, she was approached again to paint a BMW 7 Series. The BMW 7 Series Individual (750Li) made its first public appearance at the 10th edition of the FNB JoBurg Art Fair which took place between the 7th and 10th of this month.
The mural was commissioned by South African Airways and Citi Bike. The unveiling of the mural took place last week. Bangu Masisi, President of SA Tourism's Americas Hub, said: "Esther Mahlangu is renowned the world over for her unique, colourful and geometric paintings, which have inspired international brands and artists of many backgrounds across the globe. Her work has also done an amazing job of showcasing our cultures and will provide New Yorkers this summer with a sight of South Africa's vibrant Ndebele culture."
Imani announced on her Instagram page, "To you NYC,I present Xola, (Stay in Peace) -((A South African Name I named my daughter-*Alignment*))) a piece that is representative of a feminine energy force that is all encompassing, inclusive and awe-inspiring. Xola welcomes you to charge and open your divine feminine here amidst all that tries to stand against you. This is my form of resistance and protest- my expression."
According to Citi Bike, the mural is part of a tourism partnership between South African Tourism's US office, South African Airways (SAA) and bicycle-sharing platform Citi Bike, and also includes branded bikes and bicycle docking platforms.
A South Africa themed party was held adjacent to the mural where information was shared on the vacation package created by South African Airways Vacation.
Day two of creating this incredible project with @citibike x @meetsouthafrica ! To see a blank space evolve into your own creation is one of the greatest treasures I have as an artist! Thank you for laboring in love with me @mayakabigail & @ayannalong! #tribeca #nyc #art #mural #wip
A post shared by Imani Shanklin Roberts (@imaniniasr) on Sep 6, 2017 at 3:10am PDT
Day 3 of laboring in love and bringing a Feminine energy charging station to #TriBeCa !!! @citibike x @meetsouthafrica #EstherMahlangu #ndebeleart #imaniniasr #art #mural #nyc #dynamicafrica #wowsouthafrica Blessings to the team @madame.buttafly @ayannalong @mayakabigail !
A post shared by Imani Shanklin Roberts (@imaniniasr) on Sep 8, 2017 at 3:30am PDT
When beautiful people in one of Manhattan's most expensive neighborhoods capture and appreciate your African x Feminine powered piece enough to track its progress from work & home windows -- you have to remain affirmed that your purpose and language is powerful! #grateful @citibike @southafricantourism #wowsouthafrica #esthermahlangu #art #mural #imanisr #purpose #TriBeCa #artxafrica #dotart #okayafrica