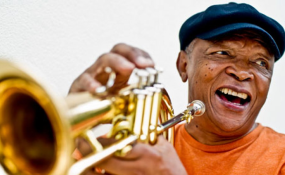 Photo: Goodlife Family/Facebook
By Melody Chironda
The award-winning jazz legend has cancelled his performance at the DStv iRock Jazz Legends concert in Polokwane as he recovers from an eye surgery.
The Hugh Masekela Management has issued a statement:
"Following a routine medical check-up on Tuesday, 12 September 2017, and after further tests, Bra Hugh went in for an emergency medical procedure on his left eye on Friday, 15 September 2017. Following this procedure, the doctor has ordered bed rest and a calm environment for post treatment healing until the end of October. No travel or performances permitted."
The musician also underwent a medical procedure to repair tendon and ligament damage in his shoulder earlier this year. This saw him cancel all shows and public appearances for a two-month period to undergo the procedure and recover.
Doors to the iRock Jazz Legends will open at 19:15 and tickets are available from Computicket at R280 for general access and R1250 for VIP access which includes an open bar, food and parking.