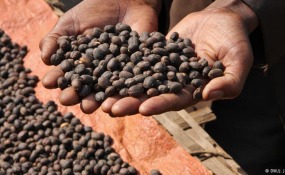 Photo: J Jeffrey/DW
editorial
Export is an engine of growth that is inextricably linked with country's economic pickup. On the other way, country's competitiveness at the international market can act as an economic advancement and a key indicator of growth.
The competitiveness in global markets aside from helping countries generate foreign currency and promote innovation, it raises the level of employment by jobs creation encouraging the overall progress of countries.
Ethiopia, for the past decades now, has been experiencing a rapid growth in GDP and exports. Despite the rapid economic growth and remarkable advancement in exports, the contribution of the export trade to country's Gross Domestic Product (GDP) and foreign exchange earning has not yet reached the desired level.
For instance, in the just ended fiscal year, though the nation had set a target to obtain 4.75 billion USD from export market, it managed to earn a total of 2.91 billion USD. Out of this, agricultural products accounted for 2.18 billion or 75 percent and contributed to 39 percent of Ethiopia's Gross Domestic Product (GDP).
While,coffee remains Ethiopia's leading foreign currency earner by generating over 882.4 million USD during the stated fiscal year, oil seeds and cereal generated 345.2 and 280.2 USD respectively. Khat and cut flower have also generated 272.9 and 218.5 million USD in the aforementioned period respectively.
A total revenue amounting to 8,775 million USD was also secured from the spice, herbs and aromatic sub-sector.
In the same way, though it is planned to obtain 266 million USD from meat and dairy sector in the second nation's Growth and Transformation Plan Year (GTP-II), the country has obtained merely 207.4 million USD in the first two years of the plan from the sector.
These shows that though the nation has a potential to generate substantial foreign currency from the sector, it could not benefit much.
There is a call for addressing this and gain substantial amount of hard currency. Hence, the country has to do a lot to address the bottlenecks and solve the challenges that the sector faces.
In this regard, it has to work hard in improving the quality and quantity of export items and achieve the desired standards.
Equally, in the global market, where price fluctuates steadily and threatens competitiveness, expanding and diversifying export products and market destination should be viewed as a central component to the long-run growth strategies.
Besides, through advancing the agro-processing sector and exporting processed and higher value added agricultural products rather than primary exports, the country could increase its foreign currency and reap the benefits of trade liberalization.
Above all, in the global market quality is an issue that is not subject to compromise. Hence, the nation should give due emphasis for the quality of its export products. To this effect, it should overcome problems that could lower the quality of export products such as poor farming practices, pre and post-harvest loses, storage problems, packaging challenges and hrdles related transportation facilities.
However, all necessary rectifying measures are not issues left for the government alone. Rather, they require the concerted efforts of all stakeholders at all levels. Associations, state offices and the public at large should take part and strive to boost nation's export earnings through upgrading value added products and ensuring quality.
Overcoming the aforementioned challenges will have considerable importance in enhancing country's export competitiveness and keeping it on its path of economic success.