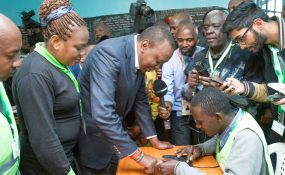 Photo: Capital FM
By Olive Burrows
Nairobi — The Supreme Court on Wednesday laid bare its reasons for - by a majority - declaring the August 8 presidential election and the result thereof, null and void.
Chief Justice David Maraga, his deputy Philomena Mwilu, Isaac Lenaola and Smokin Wanjala (in absentia) sought to show why elections are more than just about numbers amid a clamouring led by President Uhuru Kenyatta that they were misguided in not ordering a recount of the votes cast.
"Elections are not just about numbers, even in numbers, we used to be taught in school; to arrive at a mathematical solution, there is always a computational path that one has to take. Elections are not events but processes as many, even senior lawyers would like us to believe. Incidentally, IEBC's own elections manual recognises that indeed an election is a process," Deputy CJ Mwilu stated.
In a stinging indictment of the Independent Electoral and Boundaries Commission, the four judges went to great lengths to demonstrate why the comparison of the electronic results transmission system to a 'matatu' by President Kenyatta's counsel, was misguided.
Fundamentally, they found IEBC failed in its constitutional duty to verify the results by going ahead to declare a final result and winner, before receiving in scanned format, a significant number of Forms 34A from the polling stations.