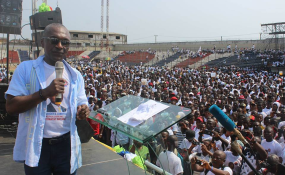 Photo: FrontPage Africa
Back-to-back endorsements of the Standard-bearer of the Alternative National Congress (ANC) continues to pour in from all parts of the country with barely 20 days left to the monumental 2017 polls in which there is no incumbent president participating.
Liberia will stream to polling centers on October 10 after a very sweltering campaigning exercise that has produced a balanced citizens' support for almost the four main contending parties including the ANC, UP, CDC, LP and ALP.
The ANC standard-bearer has made enormous leap in terms of the overwhelming supports received since the first presidential debate organized by the Deepening Democratic Coalition (DDC) which pundits believed he (Mr. Cummings) won based on his articulation and how he intends to address some of the bedridden problems.
While Mr. Cummings was away in central Liberia recently, one of the influential women at the ANC, Madam Aisha Konneh pulled a convergence of about three thousand voters at the ANC Headquarters to endorse Mr. Cummings' presidential bid.
The event was described by political pundits as a big boost for the ANC's strongman. More besides, on Sunday, October 17, 2017, another event was held in Margibi County which is often considered as stronghold of the ruling UP because of Speaker Emmanuel Nuquay who is the UP's vice running mate.
The huge endorsement program for the ANC strongman was organized by constituents of district number 2 at the Harbel Multilateral High School in Harbel.
In their petition statement read by Mr. Moses Clay, the petitioners said the decision to support Mr. Cummings' bid for the presidency is based on the numerous contributions he has made in the Liberian society and the world at large.
The endorsers named the recent donation of medical equipment to rural health care centers including the C.H. Rennie hospital in Margibi County by the Cummings Africa Foundation which is an establishment of the ANC political leader.
"Mr. Cummings also donated 350kva generator to the BWI in Kakata, Margibi County after the institution was facing electricity constrain," they stated.
The BWI is the Booker Washington Institute which provides both Academic and Vocational education. In response, Mr. Cummings thanked the petitioners for the preferment and called on them to encourage more people to support him because he offers a real change to the people of Liberia.
"I offer real change to the Liberian people. The Change you can trust". He said. He used the occasion to encourage partisans and supporters of the ANC to turn out in their numbers on October 10, 2017 to vote #5 on the Presidential ballot paper if they (citizens) truly want real change for all Liberians.