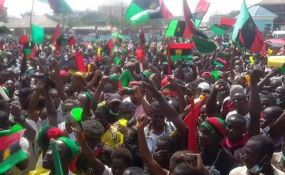 Photo: The Guardian
By Andrew Essien
Abuja — A non governmental body advancing the cause of national unity, Project Nigeria First, has expressed support for efforts being made by the Federal Government governors of the south east to arrest the crisis ignited by the activities of the Independent People of Biafra.
The body further said the decision of the South East governors to proscribe IPOB was a masterstroke that saved the nation from avoidable chaos and bloodletting.
Speaking at news conference Wednesday in Abuja, its National Coordinator, Uche Nwabukwu cautioned certain individuals and countries to desist from extending support to IPOB or trying to inflame passion.
He urged the governors "to work with traditional and religious leaders in pacifying IPOB sympathizers especially the youths", adding that "the deployment of troops in the south east was very timely as it went a long way to checkmate the activities of IPOB and prevent a breakdown of law and order.
Nwabukwu Said: "The proscription of IPOB by the south east governors quenched the oxygen needed by the group to survive and sent a clear message to the secessionist group that the governors, who were elected by the people support a united, strong and peaceful Nigeria".
"We urge foreign governments and commentators to exercise restraint in their comments and actions over IPOB. No matter their love for Nigeria, they cannot have more at stake than we, Nigerians.
"We condemn in very strong terms, those who directly or indirectly support IPOB by stirring controversy over the legality of deploying troops to the south east and the proscription of IPOB. President Muhammadu Buhari has approved the process for the proscription of IPOB and the process is on as we speak.
"On the other hand, we confidently say, if the president had wanted to conclude legal procedures before taking action, the country may have gone up in flames.
He said that comments made by certain individuals could strengthen the hands of IPOB, adding that this is not good for the country.
"In this regard, we condemn those who have been circulating incendiary and divisive text messages and videos relating to IPOB crisis. Since the authenticity of some of these videos cannot be ascertained, we appeal to Nigerians to desist from spreading them because they can escalate the situation.".