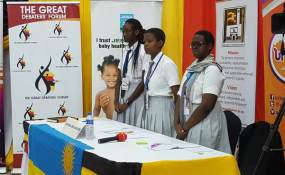 Photo: New Times
By Donah Mbabazi
When it comes to public speech and debating, Gashora girls are a class apart. From wining debating competitions locally, they have taken the continental stage by storm. Last week, the girls won the Africa Debate Championship that was held in Uganda- a triumph that has made them a continental household name in the debating field.
Nikita Isabellah was one of the girls on the team that beat off serious completion from some of the best schools on the African continent.
She says though they worked hard for the competition, the win was a surprise because the competition was tight.
"The competition was very tough, participants were so many from different countries, but it was a good fight. We had intense preparations, mostly watching videos of the world championship," the 16-year-old says.
Asked about how she felt when declared the winner, she says she first felt speechless because it was a surprise.
"We could barely believe it was happening. I feel happy that I was able to represent my school and my country," she adds.
For Nikita, a Senior Five student offering Physics, Chemistry and Biology, debating is more than just exchanging ideas; it's a platform through which she hopes to live her dreams.
"I chose to join debating mainly because of the schools I went to; they gave me access to this platform. In addition to that, the participants were smart, they were more of achievers, quick thinkers and every other thing that I wanted to be so I chose to join," she says.
About the secret to winning the debating competition, Nikita says believing in their potential was the key. She believes that though one might encounter challenges, they should always believe in themselves and aim for the best.
"There is a lot to learn when it comes to debating, delivering a concept in a way that everyone in the room will understand is a huge step that is important in so many ways today, and this we learn in the debating world.
"Debating teaches us to believe in ourselves, it's like each time you lose you keep going forward till you make it. Also, people get to think about what others are not," she adds.
Natasha Teta Semwaga, a Senior Six student majoring in Mathematics, Physics and Geography and a member of the Gashora team, emerged as the best speaker. She believes that quick thinking is one thing that contributed to their victory.
"We had to think fast, we had to do all that we could to see that we were better than them and it was mostly determination that helped us win," she says.
Though public speaking isn't something she's always looked up to, Teta has come to love her newly discovered talent.
"I wouldn't say public speaking has always been my passion, I hated it at first because I always saw it as something complicated. But when I tried it I discovered that it was something, I actually identified with and I love it," she says.
She plans on building a strong debating culture because she believes that the youth have a lot to learn from it.
"My achievements are mainly personal developments, I have been learning to improve with all the competitions that I have taken part in. I believe that regardless of whether one wins or not, there is still something to learn," she says.
Teta sees debating as a platform to defy certain stereotypes in society.
"Through debate, we can prove people wrong, it's now a fact that girls in sciences can now debate. The other thing is that it shows people that you can speak your mind regardless of your gender," she says.
Teta's proudest moments involve her time with teammates. "I wouldn't say I have one proud moment, but every single time we work together is a proud moment for me," she says.
For Cynthia Cyuzuzo, a Senior Five student majoring in Physics, Chemistry and Biology, it was her first time to take part in such a big competition and though it was a bit scary, she was unwavering. She says the experience was intense and exciting at the same time.
"It was fun for me and I learnt a lot. I love everything about debating, the arguments, the intense listening and the overall sharing of knowledge. Yes it can be tough but in the end, especially when you're the winners, it's all worth it," she says.
She calls upon fellow students to embrace debating because there is a lot to learn, not forgetting the skills, such as public speaking, that can help one be competitive on the job market.
"Go do it, it might seem hard at first but as long as you want it, you do your best to make it and the experience is amazing," Cyuzuzo advises aspiring debaters.
Samantha Bell, the coach of the students believed they would make it and indeed they did not disappoint.
"I felt so great and I am so proud of them. I saw a lot of confidence and I knew they would make it because I had seen how well they had performed. It was really great to see them win," she said.
Bell believes that the team's success was a combination of different things, one being the experience the girls had in debating, second, as a team they were the right people to work together, and as individuals, they are intelligent and well informed girls.
Bell urges other students in Rwanda to embrace this field arguing that it will give them public speaking ability and help them to analyse situations and be quick problem solvers.
The bigger impact of debate on ,society
Kismat Uwamwiza, the head of the debating team at the University of Kigali, says debating competitions have a great role to play for students, especially girls.
"Apart from sharing information, it boosts one's confidence in terms of public speaking. It also helps one to learn how to work in a group, for example sharing time and ideas," she says.
Uwamwiza also believes that debating gives one that winning spirit to the extent that one will do whatever it takes to see that their team wins.
"I do believe that debating takes away that inner fear that we always have, and gives us the confidence to stand and defend ourselves. One can speak up and express themselves," Uwamwiza says.
She calls upon girls who still have inferiority complex issues to embrace debating because this way, they will overcome.
Dieudonne Ishimwe, the founder of National Young Entrepreneur's Debate Championship, says Rwandan society, especially the youth, need to have public speaking skills to increase critical thinking, and this is where the necessity for debating comes in.
He says that the advantages that come with the activity are numerous and that embracing it would mean success in so many aspects.
"It encourages diversity of knowledge because of the need to research. It encourages people to think out of the box because in a conflict of ideas, it's where we can get the best of ideas. People get to be informed and they also learn from each other," he says.
Ishimwe is also of the view that depending on how fast the world is running, students need to be equipped with skills that ought to help them out there.
"Nowadays, the world is moving faster, regardless of what you do, there is that need to connect with other people and this is done through communication. Whether getting a job or running your business, these skills are needed, hence debate is very important," he says.
He is appeased by the fact that debating is building strides since more students are taking it upon themselves to form debating clubs and practice weekly. This shows progress if one compares with past years.
How can a debating culture be instilled in the youth?
Schools should find a way of rewarding those who have the passion; this in the end will encourage more students to hop on board. Debating is such a fine way of engaging students in very important aspects that are developmental towards society.
Penina Umutesi - Secretary
Schools should be institutions that not only impart certain knowledge, but also, mind about important skills such as public speaking. Such skills can only be attained through activities such as debating, hence students should be provided with such platforms.
Muhuma Kanizio - Student
Clubs should be created where students can be helped to get debating skills, this in turn will give them the opportunity to participate in decision-making on meaningful issues that can have an impact.
Deborah Nanyonga - Office administrator
Debating has the ability to impart students with a sense of insight and responsibility as they get to research on a range of topics. This is why learning institutions should use this kind of platform to nurture their students with such skills by making it compulsory for all students to participate.
Felix Kayihura - Lawyer