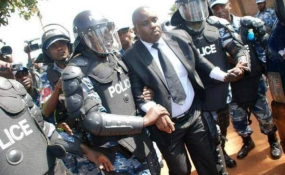 Photo: Daily Monitor
By Amos Ngwomoya
Kampala City Lord Mayor Erias Lukwago has been arrested.
Mr Lukwago was this morning arrested at his home in Wakaliga, Rubaga Division in Kampala as he planned to leave for work.
Mr Lukwago and a group of other elected city leaders had today planned to hold a procession from city hall to City Square where they were to launch their 'Togibikula' campaign against lifting of the presidential age limit.
He has been been taken to Kira Police.
Earlier on, Mr Lukwago told this reporter in a telephone interview that police surrounded his home at about 5am.
"I woke up at 5am only to learn I was surrounded by police. They have refused to allow me leave my home," Mr Lukwago said.
Meanwhile, Buhweju county MP, Francis Mwijukye's house has also been surrounded by police.
"My house is surrounded by police. A police pickup has been placed at my gate. I have refused to talk to the police commander. I don't know whether their plan is to stop me, arrest me, or to drive me to parliament. Last evening, they followed me up to my house . Nothing will stop me from going to parliament to defend the Ugandan constitution. This nonsense must stop," Mr Mwijukye said.