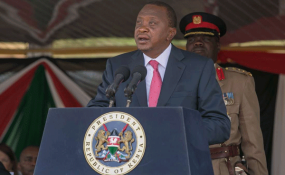 Photo: The Nation
By Ibrahim Oruko
The Supreme Court has today given the detailed reasons behind its decision to nullify the outcome of the August 8 presidential election.
In the long-awaited decision, the majority opinion of four rapped the electoral commission for the way it conducted the poll.
LAW BREACH
The Independent Electoral and Boundaries Commission (IEBC), they said, breached the Constitution, the Elections Act and other election laws and regulations to the extent that the poll agency became a law unto itself.
In the judgements read by Chief Justice David Maraga, his Deputy Philomena Mwilu and Judge Isaac Lenaola, the court noted that the level of irregularities and illegalities in the poll were many, systematic and deliberate.
They further said they annulled the presidential election after the commission failed to counter the evidence adduced in favour of the petition.
"It is clear the discrepancies were widespread and to a great extent affected the integrity of the presidential election," Justice Maraga said.
NUMBERS
While poll outcome was beamed live in TV, the judges noted, IEBC failed to inform the public the source of the results and dismissed assertion that election is all about numbers.
"On our part, elections are not just about numbers; they are not events, but processes," the judges argued.
They said elections are holistic processes that reflect maturities of democracies.
They accused Mr Chebukati of announcing the final results without forms 34A in breach of the Elections Act.
The commission presided over an inaccurate, unverifiable and a less transparent presidential election, the judges said.
The judges noted that the commission's failure to open itself up for scrutiny after spending billions of shillings in taxpayers' money on the poll was proof that the commission was hiding something.
More follows.