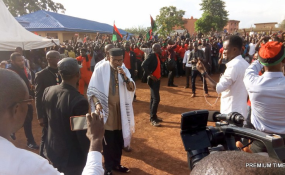 Photo: Premium Times
By Mohammed Adamn
Nnamdi Kanu's hot air reminds one of Adolf Hitler's historic rebuff of that Brito-French 'appeasement' policy (under the Munich Pact) signed by Europe to avert a Second World War -which the German Furrher's land grab was about to cause. And although the Pact had 'bribed' Hitler with the choicest part of Czechoslovakia which he had claimed was Germany's, Hitler was still not appeased. He wanted the 'whole' and not just a 'part' of it. And his eventual invasion of Poland would soon prove the futility of the 'appeasement policy' as an effective tool for the pacification of warmongers in order to avert war.
And like Hitler, we saw that Kanu was also belligerently 'mutinous in peace', -insulting all and rebuffing all entreaties to moderate his irredentist demands and to submit to the rigors of the due democratic process.
Ironically the one who claimed 'victim' in the aftermath of that Military's 'show of force' had always been on an ethno-centric verbal 'show of force'. He was announcing lethal weapons he intended to use to annihilate us all; and he was glorifying -like Hitler did the Aryan race- the Igbos as having a divine Judean right to kill us all and to inherit the vineyard. Pity, Kanu was to be out-shown, by a non-venomous 'dancing python', even in the very 'show of force' that he had originally provoked.
Possible future conquest
And like Hitler, Kanu too had arrogated to himself the prerogative to re-draw Nigeria's borders and to carve out a preeminent biafra as a nation with a Judean mind that will not be averse to future land grab. South-ward he had his mind on Bayelsa, and Rivers States to the open sea. And up North he had added Benue as icing on the cake of a possible future conquest to the heart of a Greater Nigeria. In fact, the way he was sniffing Kogi, it was a matter of time, Kanu would find a recessive ancestral gene to link it to the 'land of the rising sun'. For a man who had traced the Igbo ancestry across two races, it would be even easier to do so within the black race.
Revolutionaries would say 'give us liberty or give us death!' but Kanu would say: 'give me Biafra or I'll kill you all!' And you wondered, if he was this mightily strong, shouldn't he have just taken Biafra off the map instead of demanding that we give him? Besides, as he was this violently 'mutinous in peace', would you not have thought that Kanu should be mightily 'bold in war' too. But no; even before the beagle of war was blown, and the alarum of battle sounded, the man whose 'sneeze' had allegedly given 'cold' to the 'zoo' he called Nigeria, had already fled. Kanu had caught the 'courage' of the 'cowardly dog'. Or as the Hausas would say: 'yaa ari ta kare'! to prove that he is after all a coward.
If I had not known -on and off line- many detribalised Igbo friends, colleagues and acquaintances, who are true to one Nigeria, and who believe that the Igbos need 'all' of us no less than 'all' of us need the Igbos, I would fain have said without fear of contradiction: 'scratch every Igbo man and you'll find a biafran; or scratch every biafran and you'll find an IPOB man'. And as I do not intend to miff the feelings of these true Igbo brothers of mine, I will not also agonise over the anguish it may cause others.
'Meed for meed: 'Kanu loved the language of war. And he loved the prospect of battle. And why not? -because 'having nothing at home, nothing can he lose'. Thus, he had presented to the nation a fait accompli: 'head, we go to war; tail, we go to war also'. A Hobson's choice it was: to 'draw' the sword first against the enemies of state, or to wait to pull the shield to defend after we have been wounded. But the army did neither. It did not strike, and it did not wait to be struck. It did only what it had to do, namely a 'show of force. Because 'there is no virtue, they say, like necessity'; and 'Strong reasons, always make strong actions'. The army had rolled itself out as a moving 'caveat gladiatus', and the body language was legible: 'gladiators beware, you are about to perch on the lips of a lion!
But then they said that the army was aggressing an 'innocent' citizen, Kanu who was 'only going about his lawful business' -threatening 'death' and 'destruction' to all and inciting 'tribes' against 'tongues', religion against religion! They were not ashamed to 'apply a moral medicine to a mortifying mischief'. They said that the army had no right to a 'show of force'. That it is ultra vires its constitutional powers so to do. Besides, they also accused the army of applying excessive force: using a sledge hammer to kill a 'fly'.
So now the big ugly King Kong, Kanu, who was egged on by kith and kin to drop the bomb on us all, suddenly was now an 'innocent David', with only a 'catapult', a 'pebble' and the 'finger' of God, to fight the accursed, Goliath. And poor despised Goliath was said to be guilty of the offense of 'overkill' by merely brandishing his 'tendons' and his 'biceps'-to an opponent who was 'one with God', with a 'catapult' and a 'pebble' to boot!'
But in truth 'war takes all vantages'; and it is the reason they say: 'ten to one is not necessarily an impeach of valor'? The army has the right to kill a 'fly' with a sledge hammer if letting that 'fly' be can lead us all to Golgotha. Besides, did jurists not say: 'silent legis, inter arma' -that the laws are silent amidst the rumbling of arms. 'When heaven weeps' the question is asked, 'does not the earth overflow?' Or 'If the wind rages, does not the sea wax mad?' So did Kanu not call for a downpour? Yes, he did! But has it even showered yet? In truth it has only drizzled'! Yet they say that the gods are wicked -sending the 'drizzle' on a man who had called for a 'downpour'. What would the gods have been guilty of if they had sent forth Kanu's request for a downpour?
Or did Kanu not insist on a whirlwind? Even though what he has reaped so far is a mere storm in a tea-cup? And what would the gods have been guilty of if they had sent a hurricane?
Kanu recants: And now we can see that 'every cloud, truly, engenders not a storm'. Because the man who once spoke of 'death' as though he was the maker of 'life', now claims he is an apostle of non-violence and an advocate of unarmed struggle. He has denied preaching violence and he has repudiated the claim that his mob was armed.
But who will deny that their complot was to see that the blood of the 'innocent' manure the earth; and that 'peace' was banished to go sleep with the Turks and with the Tartars. So that disorder, horror, fear and mutiny inhabits us all; and this once peaceful land of ours now becomes the 'field of Golgotha' and the 'graveyard of dead men's sculls'.
But true Nigerians -Igbos, Yorubas, Hausa-Fulanis and the rest- seem to say in unison, now: 'no more the thirsty entrance of this soil shall daub her lips with her own children's blood; no more shall trenching war channel her fields, nor bruise her flowers with the armed hoofs of hostile paces. The edge of war, like an ill-sheathed knife, no more shall cut the nation by its hip.
The future Biafra: Let truth be told: Biafra is a high hope for a low heaven. Such tiny speck of interlocked piece of earth; half the size of my little Niger State, is beneath the merchandising prowess of these self-acclaimed Judeans. Who will buy from who? And who will sell to who?
What do the Igbos seek? Or what do biafrans want for the Igbos? Equity or equality? Is this not the tiny little 'territory' fit just for a 'State' that 'equity' has allowed to pass for a 'zone'? Or Are these not the five 'local councils' that are allowed to stand as glorified 'states'? They have 'equity' already. But they also want 'equality'; and they say that as every zone has six states, they too deserve six. But they forget that some zones are ten times also the size of the East. Should they ask to be split into ten zones for equity's sake? How much fairer can 'equity' get? As equality is not the hallmark of nature, so is 'equity not always judged by how equally resources are shared. Things must not always be 'equal' before they can be 'just'. But they can be 'unequal' and still be 'equitable'.
And if truth be told, leaders and elders of Igboland, spiritual as well as temporal, have proved but one thing to be true, that they are like that proverbial 'ewe' which because it's being hard of hearing 'will not allow it hear her lamb when it baes', it is not to be expected that 'it will ever answer to her calf when it bleats'. In his rage and in his fury; in his wrath, and in his madness, it is the elders of the East that have allowed Kanu's little fires to grow into a conflagration .
The more pity, that fools may not speak wisely what wise men do foolishly. For, as they say, the wiseman's folly is anatomised always even by the squandering glances of the fool. The East is in dire need of leadership -culturally and politically. This Biafra madness has to stop once and for all!