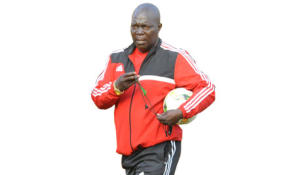 Photo: Eddie Chicco/Daily Monitor
By Denis Bbosa & Ismail Dhakaba Kigongo
Kampala — Hours after his tenure as Uganda Cranes' interim coach was extended, Moses Basena told Daily Monitor that there is no reason why he shouldn't coach the team permanently.
Yesterday, Fufa extended Basena's tenure as national team coach until the end of the ongoing 2018 World Cup qualifiers following the expiry of his 'first term.'
Fufa chief executive officer (CEO) Edgar Watson told a media briefing at Fufa House in Mengo that Basena will be in charge for games against Ghana and Congo Brazzaville.
The UPDF coach was first in the immediate aftermath of Micho Sredojevic's resignation over a pay dispute before he joined South Africa's Orlando Pirates. This means that his reign will end in November. Fufa had initially given him four games, two against Rwanda and Egypt respectively in which he put a mixed show - winning two and losing two.
Does Basena want the job permanently?
"Why not?" Basena asked. "Do you want to live for only tomorrow or for the next 100 years?"
"No one wants to live for only tomorrow and we all know that. I hope it doesn't end this year. I hope we can go on into the next year and beyond," Basena said.
"It's good if the institution believes in you. And the least I can do is go on," he added.
Unlike when he was first announced with Fred Kojoba as his deputy, Fufa did amend the coaching team to include Matia Lule and ex-Cranes skipper Ibra Sekagya.
Lule is now the assistant along with Sekagya while Kajoba remains goalkeeping trainer.
"The Executive meeting that sat recently unanimously decided to keep Basena as the Cranes head coach and will also oversee the Under-23 side. "We still demand good results and we believe he will keep the World Cup dream alive," Watson said.
He refused to divulge the salary scale of Basena and his auxiliaries adding that they asked it remains a confidential matter.
Though Uganda is second in group E after the 1-0 defeat to Egypt in Alexandria, Basena maintains his team is still in the fight.
"We have to keep the momentum we have so far, we are still confident after the result in Egypt that knocked us off the summit.
"Nothing to suggest Egypt will win all their games. So it's still work.
The last Ugandan to coach the national team was current KCCA coach Mike Mutebi back in 2004. Elsewhere, Faridah Bulega leapfrogged her boss Majidah Nantanda to become the new She Cranes head coach and she will be assisted by Edward Kaziba.
National Teams Technical Staff
Uganda Crested Cranes
Head coach: Faridah Bulega
Assistant Coach: Edward Kaziba
Goalkeepers' Trainer: Daniel Kiwanuka
UGANDA U-20:
Head coach: Edward Kaziba
Assistant Coach: Oliver Mbekeka
Goalkeepers' Trainer: Daniel Kiwanuka
Men teams:
UGANDA U 17 (Uganda Cubs)
Head coach: U-17: Peter Onen
Assistant coach: Hamza Lutalo
Goalkeeper Trainer: Mubarak Kiberu
UGANDA U-20 (Uganda Hippos)
Head coach: Mathias Lule
Assistant coach: James Odoch
Goalkeeping coach: Samuel Kawalya
UGANDA U-23 (Uganda Kobs):
Head coach: Moses Basena
Assistant coach: Wasswa Bbosa
Goalkeeping coach: Sadiq Wassa
UGANDA SENIOR TEAM (Uganda Cranes):
Head coach: Moses Basena
Assistant Coach: Mathias Lule
Goalkeeping coach: Fred Kajoba
*Ibrahim Ssekajja to join panel of coaches
National teams cordinators
Chris Muyinda, Joseph Kasana
Kamala Taban, Sulait Makumbi
FUFA STANDING COMMITTEES 2017 - 2021
COMPETITIONS
Hamid Juma- Chairman
Mafuko Latif- V/Chairman
Kavuma Hassan - Member
Brian Ssengendo- Member
Tabu Santos- Member
LEGAL COMMITTEE
Ojok Odur- Chairman
Edgar Agaba- V/chairman
Kabega Musa- Member
Chandia Alex- Member
Kayongo Mark-Member
COMPETITIONS DISCIPLINARY
Mutabazi Deo- Chairman
Kabwemukya George- V/C
Serunjogi Robert- Member
FINANCE
Ariga Rasoul- Chairman
Ankunzire Frank- V/chairman
Kizza S. Jimmy- Member
Nyiria J. Fairfax- Member
Serunjogi Geoffrey-Member
Kalanda Ismail - Member
LICENSING COMMITTEE
Rogers Byamukama- C/M
Mpiima Samuel- V/Chairman
Aggrey Ashaba- Member
Chandi Fred Opeli- Member
Ben Mwesigye-Member
MARKETING AND COMMUNICATIONS
Rogers Byamukama- C/M
Ssemutono Stephen- V/C
Onyinge E. Micheal- Member
Sande Muyanja -Member
Musenze Faisal- Member
FUFA MEMBERS' COMMITTEE
Mukiidi Kalyebala- Chairman
Tamale Haruna-V/Chairman
Kakomo Rock-Member
Kirunda Hassan- Member
Mwangu Hussein- Member
Atyang TomPeter- Member
Semuyaba Bust-Member
PLAYERS' STATUS
Ochom Richard- Chairman
Mawadri Charles Delson- V/C
Kalungi Edward- Member
Mohammed Faisal- Member
Sejjengo Sulaiman- Member
REFEREES STANDING COMMITTEE
Ronnie Kalema- Chairman
Rwamuyambe Rosebell-V/C
Ali Tomusange- Member
Nkono Amin Bbosa- Member
Haruna Mawanda- Member
FUFA REFEREES PANELS
Appointments Panel
Mawanda Jjunju- Chairperson
Mubanda Nelson-Member
Kazibwe Nobert- Member
Technical Development Panel
Tomusange Ali- Chairperson
Waiswa A. Baligeya-Member
Yusuf Awuye- Member
Assessment and Promotions
Nkono Amin Bbosa- C/M
Waisswa Ali-Member
Kubingi Margaret- Member
Regional Appointments-
Rosebell Rwamuyamba - C/M
Ojwe Denis-Northern
Ajab Waiswa-Eastern
Kabwemukya George-Kitara
Katumba Wamala-Kampala
Mwanje Joseph-Buganda
Mwebembezi Milton-Western
Ayub Khamis-West Nile
Kiiti Yahaya-North East
SECURITY & SAFETY COMMITTEE
Sekabira Abdul Lukoya- C/M
Ngobi Jamal- V/Chairman
Alias Silver - Member
Okello Dixon- Member
Obic Robert Coxson-Member
Kacumu Stephen-Member
Nsubuga Herbert-Member
FOOTBALL DEVELOPMENT
Kalibbala Chris-Chairman
Livingstone Kyambadde- V/C
Ade Fredrick Isaac- Member
Ahimbisibwe Apollo- Member
Kigongo Farouk-Member-
Okello Calvin-Member
Tumwesigye Anthony-Member
WOMEN'S FOOTBALL
Mugena Agnes- Chairperson
Florence B. Nkalubo- V/C
Esalu M. Shesmond- Member
Niwagaba Switzen- Member
Ssali Paul-Member
INTER'L MATCH ORGANISATION
Magoola Issa- Chairman
Mike Letti- V/Chairman
Donney Robert- Member
Kamulegeya Yusuf- Member
Mwanje Joseph S- Member
Okello Walter-Member
Sendyowa Abass-Member
NATIONAL TEAMS' COORDINATORS
Makumbi Sulait
Jospeh Kasana
Taban Asega Kamara
Muyinda Crispu
FUFA Diversity and Anti-Discrimination (FUFA DAD)- Manager: Samuel Mpiima