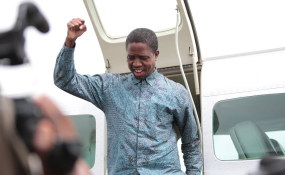 Photo: Zambia Reports
By Evans Mulenga
President Edgar Lungu has called for a thorough investigation into the acquisition of 42 trucks for $42million.
The procurement of the trust has stired controversy among Zambians with many demanding answers alleging the amount was outrageous.
President Lungu made the call to investigate the deal when he spoke to Zambians on the sidelines of the United Nations General Assembly in New York.
President Lungu said he is not corrupt and would not be intimidated to do his work.
He urged those with useful information to submit it to the investigations wings to help scrutinize the matter.
President Lungu however said it was sad that in Zambia there was a tendency by losing bidders in a public tender to raise all manner of accusations against the successful bidder.
Below are the bullet points issued by his Special Assistant to the president for Press & Public Relations, Amos Chanda.
"1. There has been an outcry about the recently acquired fire trucks and I think that those charged with the responsibility to investigate must show interest in the matter;"
"2. I am not corrupt and will not be intimidated by accusations of corruption as I do my work;"
"3. Those with evidence or any useful information about fire tenders must come forward and held investigative wings;"
"4. I know also that whenever a tender is given to one person the other loser raises questions but since there is a lot of protests over this one let those with information of wrong doing come forward"