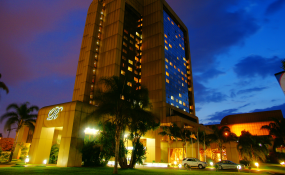 Photo: Rainbow Tourism Group
A Harare man, Kudzai Prince Machimbirike, recently committed suicide at Rainbow Towers Hotel, it has emerged.
The matter came to light when the man who supplied Machimbirike with a pistol he used to take his own life was hauled before the courts for selling the gun without following proper procedures.
Timothy Munetsi, 62, was charged with unlawful transfer and failure to renew his firearm certificates.
Court heard that Munetsi last renewed his certificate in 2014 and went on to sell the firearm to Machimbirike on September 15 this year.
After acquiring the gun from Munetsi, Machimbirike shot himself a day later at the top Harare hotel.
Investigations followed and it was established that the gun was registered in Munetsi's name.
It was also established that he never renewed his licence ever since he purchased the pistol.
Prosecutor Francesca Mukumbiri said Munetsi acted contrary to the Firearms Act hence should be prosecuted for his actions.
Munetsi is expected in court Wednesday for bail application.