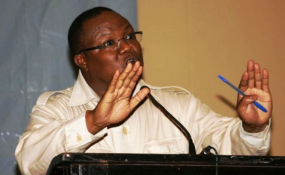 Photo: Daily News
By Deogratius Kamagi
Dar es Salaam — Opposition Chief Whip and Singida East Member of Parliament Tundu Lissu will continue to receive treatment at the Nairobi Hospital, according to information by Singida North MP Lazaro Nyalandu.
Mr Nyalandu posted on his social media accounts that doctors have recommended that Mr Lissu should not be transferred to the United States (US) as it was planned, saying his condition was still critical.
"Chadema national chairman Freeman Mbowe and I have consulted with the doctors and they assured us that the patient is responding positively to the treatment he is receiving and that he should remain at the hospital until further recommendations".
"So, with their report, all procedures to transfer him to the US for further treatments will stop," reads posts on his Instagram and Facebook accounts.
On his post which was featured with the portrait showing him and Mr Mbowe, called upon Tanzanians from all walks to extend their prayers for the patient's quick recovery.
"Also, we should continue with the fundraising to support his treatment... all of us, people from Singida and Tanzanians in general have been deeply hurt by the incident, this is unacceptable to both the Lord and human beings," reads his emotional post.
The former minister of Natural Resources and Tourism extended his call to State security organs tospeed-up investigations and have the assailants arrested immediately.
He argued further that that the assassination attempt has not only shamed the country butshattered the country's young democracy that provides for tolerance on political differences.
"Moreover, as a nation we have to keep aside our religious, cultural and political differences and condemn the inhuman acts happening in the country, it written that, righteousness exalts a nation," concluded the lawmaker and CCM member of the National Executive Council (NEC).
Mr Nyalandu was the first law maker from the ruling party to visit Mr Lissu at Nairobi Hospital since the latter was attacked by the unknown assailants in Dodoma on September 7.