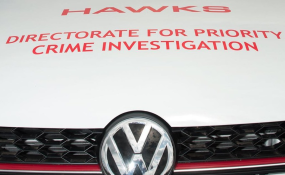 Photo: South African Police Service
Former Hawks boss Berning Ntlemeza's retirement would hopefully put his appointment saga to a close, the Helen Suzman Foundation and Freedom Under Law said on Wednesday.
It was because of the organisations actions that the North Gauteng High Court in Pretoria found Ntlemeza's appointment invalid and unlawful.
The organisations said they were "pleased" that the challenge of his appointment which was launched in the High Court had succeeded.
"But we realise that the general's bullying and at times near-farcical conduct was only a relatively minor phase in the broad-fronted assault on the integrity of our state institutions," the organisations said in a joint statement issued on Wednesday.
Ntlemeza's retirement was announced by the Hawks on Tuesday.
On September 15, Police Minister Fikile Mbalula received a court order which ruled that the appeal of the High Court judgment via the Supreme Court of Appeal had been dismissed.
Mbalula has decided not to appeal.
"Upon studying and interpretation of the court order, it is conclusive that General Ntlemeza's appointment as the Head of [Hawks] has been nullified and declared unlawful," he said at the time.
"With this decision of the SCA [Supreme Court of Appeal], I am directing SAPS to commence processing General Ntlemeza's retirement with immediate effect as if he had retired at the age of 60 but at a level of Major-General and not as a Lieutenant-General he was promoted to upon his now defunct appointment."
Mbalula would start the process of filling the permanent vacancy of Hawks head.
Meanwhile, acting Hawks head Lieutenant-General Yolisa Matakata will remain in the position.
Mbalula wished Ntlemeza, 60, well.
Source: News24