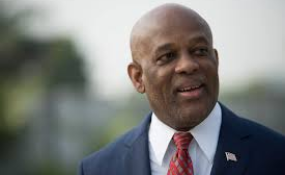 Photo: FrontPage Africa
The standard-bearer of the opposition Liberty Party (LP), Cllr. Charles Walker Brumskine says he is not arrogant as insinuated in the public. Over the years, the first Liberty Party partisan has been accused repeatedly of being arrogance which Liberians at home and abroad claimed has cost him the presidency on two occasions (2005 & 2006).
Appearing on Sky FM Wednesday, Cllr. Brumskine described himself as a friendly and down-to-earth fellow and is not arrogant as people perceived him.
The LP political leader said people who claimed he is arrogant and not accessible are people who don't know him as a person. "I may not be a poor man, yes, my father was a poor man, but he paid the price for me to be where I am today. I am not arrogant; I know where I come from. My best friends are the zogos today; they are my children because they go to the party headquarters everyday just to meet me. I am a regular Liberian from a humble background trying to do what I think is good for our country," he said.
Cllr. Brumskine said it is normal that when people have nothing to say about another person, they look for negatives. "None of my detractors will tell you Brumskine doesn't have the requisite qualifications to be president of this country. They won't talk about experience, temperament. Whole day the man arrogant, I am not arrogant. I am regular guy," he added.
Meanwhile, Cllr. Brumskine has vowed to change the country fundamentally if he is elected president of the country comes October 10.