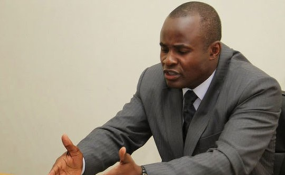 Photo: New Zimbabwe
Firebrand legislator Temba Mliswa has confronted Finance Minister Patrick Chinamasa demanding answers on the source of foreign currency used by the First Lady Grace Mugabe and her son to acquire an expensive house and a car from outside the country.
Mliswa, the independent MP for Norton, said during Parliament's question Wednesday that it was time the country's tough monetary regulations were specific on priority products to be acquired using scarce foreign currency.
He then asked Chinamasa if Treasury approved the acquisition of a R45 million house in South Africa by Grace and a US$300,000 Rolls Royce by Russell Goreraza.
Evidently put on the spot, Chinamasa tried to evade the question, insisting he knew nothing about the controversial transactions.
"Madam Speaker, I cannot comment on allegations which I am not aware of.
"These are transactions outside Government. Yes, they are transactions, if they happened at all and I cannot comment. You need to ask those you allege have done so."
But Mliswa would have none of that as he accused Chinamasa of ducking and diving in a bid to protect the first family.
"I think we need to be consistent. We cannot have ministers ducking and diving," Mliswa said.
"This is very clear. Most of the questions asked in this House come through various forms.
"The First Family has not denied that they bought a house. There has been no official statement from the first family saying that.
"It is very clear that unless, Minister, you are able to tell us that you will look into it and you will come back to us and answer the question... is it an offshore account or is it not an offshore account."
Mliswa was adamant Chinamasa owed Zimbabweans an explanation over the splurges at a time the country is struggling with a crippling shortage of foreign currency.
"He must respond. The Minister cannot duck and dive to protect corruption.
"This House must uphold the Constitution and must hold everybody accountable; the First Lady has been extravagant.
"The US$1.4 million which was used to buy a ring, it was also out of foreign currency in this country. We have been too quiet. He must answer ... "
However, as Mliswa demanded for answers, Zanu PF MP for Hurungwe East Sarah Mahoka stood to raise a point of order, insisting the former Zanu PF loyalist was violating parliament's regulations by mentioning names of people who were not in the House to respond to the allegations.
Grace's mansion is in Johannesburg's plush Sandhurst area while her son from her first marriage was on the news this week for having imported his luxury car.