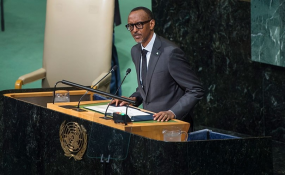 Photo: New Times
President Paul Kagame has today spoken at the Council of Foreign Relations during an exclusive discussion entitled "A Conversation with Paul Kagame", hosted by Allen Richard Stengel, as part of his engagements at the 72nd United Nations General Assembly in New York, US.
The conversation focused in issues pertaining to democracy in Rwanda, unity and reconciliation, governance, and regional integration among others.
On democracy and freedoms, President Kagame stated that although democracy is a principle that everyone identifies with - there is a misconception surrounding it.
"Democracy is democracy, choosing to define it as "western" is alright, but what does this actually mean? This very important word, democracy, is a principle we can all associate with, but it must be contextualised. The west continually tells us to fit into their description of democracy, while imposing how people should live. How are a people supposed to be free, if the way of living is to be dictated upon?" President Kagame questioned.
The Head of State added that ironically, the same people who teach Africans about democracy, turn around and offer opinions on who they would like to see lead a country.
On Rwanda's social and economic transformation, President Kagame said that Rwandans have made progress because they had a clear vision for the country right from 2,000 to 2,020 on how they were going to invest in in people.
"Foreign Aid played a big role in the development of our country, by engaging donors on its best use. We chose to invest in the key sectors needed for our people to live a dignified life. The last 15 years have seen our economy grow between seven and eight per cent every year," President Kagame said.
On regional integration, the President emphasised that it is the way to go.
"The benefits of integration are very obvious to many. If you look at what we lose in not emphasising intra-African trade, which regional integration would easily facilitate, is huge. If we unlocked the intra-African trade, it would give us more than we are getting from anywhere, whether through aid or by Chinese or by others," President Kagame said.
The President also discussed a broad range of issues from the recently concluded presidential polls, to security issues in the Democratic Republic of Congo, to human rights.