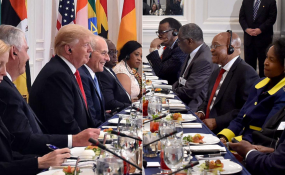 Photo: allafrica.com
President Jacob Zuma on Wednesday declared in his address at the UN that climate change was real.
Speaking at the General Debate of the 72nd Session of the UN General Assembly, Zuma expressed support for victims of hurricanes, arguing that climate change was "real".
"We take this opportunity to express our empathy and solidarity with all the victims of the devastating hurricanes, monsoons, floods and drought as a result of the phenomenon of climate change.
"These phenomena are proof that climate change is real and that if we do not act now, future generations will suffer untold consequences," Zuma said.
Zuma's comments come in the wake of US President Donald Trump having pulled the US out of the 2015 Paris climate accord earlier this year. The agreement seeks to maintain global consensus on the response to climate change.
The US is the world's second biggest producer of greenhouse gases after China and its withdrawal was seen as a blow to the Paris Agreement.
"The Paris Agreement on climate change is a milestone in the history of efforts to address climate change and all its consequences. We should resist all efforts to unravel and undermine the Paris Agreement," Zuma urged.
African economy
Zuma also spoke about international power relations and how they lead to the underdevelopment of Africa.
"These unequal and unjust economic power relations manifest themselves sharply in Africa. For example, our continent is endowed with mineral resources, but it still has the highest number of least developed countries."
Zuma highlighted capital outflows from Africa, specifically highlighting that economic globalisation has not benefitted the continent.
"Money laundering, tax evasion and tax avoidance, corruption, and transfer pricing by multinational companies are some of the biggest challenges to economic growth and stability," said Zuma.
Trump told heads of African governments on Wednesday that several of his friends were going to Africa to "get rich" but did not give details.
"Africa has tremendous business potential," he said. "I have so many friends going to your countries, trying to get rich. I congratulate you. They're spending a lot of money," he said.
"For American firms it's really become a place that they have to go - that they want to go."
Nuclear power
Zuma insisted that the legacy of colonialism obligated developed countries to contribute to Africa's development.
"Developed countries in particular have a historic and moral obligation to contribute to achieving a fair global economic environment, and to eradicate the scourge of illicit financial flows from the continent."
Trump also recently threatened the "total destruction" of North Korea over its nuclear programme and mocked leader Kim Jong Un as "rocket man".
However, Zuma cautioned against the use of force, arguing that the South African experience showed that nuclear weapons were dangerous.
"As a country that voluntarily dismantled its nuclear weapons programme, South Africa is of the firm view that there are no safe hands for weapons of mass destruction.
"The only viable solution to the problems of nuclear weapons is their total elimination as expressed in the recently UN-adopted treaty banning nuclear weapons.
"It can no longer be acceptable that some few countries keep arsenals and stockpiles of nuclear weapons as part of their strategic defence and security doctrine, while expecting others to remain at their mercy," Zuma said.
Zuma also expressed his disappointment that the US under Trump changed course to a hard-line Cuban policy.
The Trump administration reversed the thawing of relations with the island nation that began under former president Barack Obama.
"I also wish to register South Africa's disappointment at the June 2017 decision of the US administration to reverse the progress that was registered in the past two years towards ending the Cuban blockade."
News24