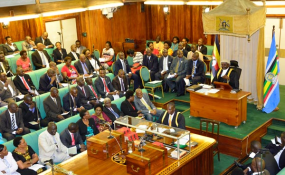 Photo: Dominic Bukenya/Monitor
By Zadock Amanyisa
Bushenyi — Police on Thursday deployed heavily to guard MP Raphael Magyezi's office in Butare trading centre in Kyamuhunga Town Council, Bushenyi District, amid claims that a civil society group, Uganda Citizens Alliance (UCA), is organising demonstrators to torch it.
MP Magyezi was chosen by the ruling National Resistance Movement (NRM) party Caucus to this Thursday afternoon seek leave of Parliament to table a motion to scrap presidential term limit.
The proposal has raised political temperatures, sparked opposition demonstrations and arrests in different parts of the country and prompted security forces to place the city centre under a lockdown, with a low-flying police helicopter circling Parliament.
Back in Bushenyi, Mr Del Atuhaire, the UCA president, says they were mobilising residents for a peaceful demonstration against MP Magyezi's move to spearhead the lifting of the upper presidential age limit.
"We are on ground mobilising residents to peacefully demonstrate against their MP's actions. We know police is there, but we shall go on with preparations," he says.
Bushenyi Region police spokesperson, Mr Martial Tumusiime, says they have information that the Opposition Forum for Democratic Change (FDC) party members were behind the planned demonstration, which could lead to destruction of MP Magyezi's office.
"Deployment is normal, but we have information that FDC has organised a demonstration and we are not allowing them," he says.
Asked if the organisers notified police of their planned activity, Mr Tumusiime responds: "They did not tell us about the demonstration. Even if they told us, we wouldn't allow them because it can begin as a peaceful one and it ends in destruction of property."