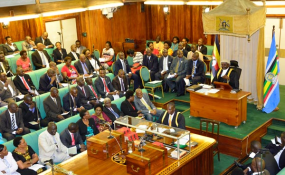 Photo: Dominic Bukenya/Monitor
By Solomon Arinaitwe
Speaker Rebecca Kadaga and her Deputy Jacob Oulanyah have a moment ago arrived at Parliament for a make or break meeting to decide how to proceed with two motions by rival groups of MPs regarding Article 102(b).
Deputy Speaker Oulanyah arrived via the makeshift entrance at around 11:45 pm while Ms Kadaga trooped in via the Main Gate a few minutes past mid-day.
It is unclear why Mr Oulanyah used the makeshift gate as he usually uses the Main Gate.
The two principals are expected to head straight into a crisis meeting to thrash out a way forward regarding rival motions by MPs.
Igara West MP Raphael Magyezi wants to table a motion seeking leave of Parliament to introduce an omnibus Private Member's Constitution Amendment Bill to, among others, amend Article 102 (b) and delete presidential age limits.
A rival motion by the Kassanda County North MP Patrick Oshabe seeking to order government to set up a Constitution Review Committee (CRC) has, however, triggered a deadlock which the meeting between Ms Kadaga and Mr Oulanyah is expected to resolve.
The resolution of the meeting is expected to be communicated by 2:00pm.