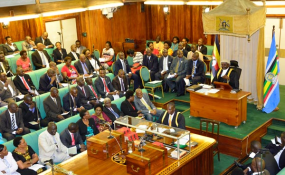 Photo: Dominic Bukenya/Monitor
By Damali Mukhaye & Shabibah Nakirigya
Former Presidential candidate Joseph Mabirizi has been barred from accessing FDC offices. Mr Mabirizi said he had gone to the Najjanankumbi-based offices to visit Dr Kizza Besigye. However, police officers who had sealed off the offices told him to return another day.
"I have come to see someone inside, give me the reason why you are barring me from accessing FDC office on a working day," Mr Mabirizi asked police officers.
Shortly after Mr Mabirizi had left, the FDC acting president Ms Alice Alaso arrived and ordered police to open the gate. She insisted that they open the gate for her and directed party staff members who were standing outside to enter.
"Go and deploy in Entebbe where women are killed not at FDC headquarters," added Ms Alaso before entering. Other members who had party IDs were also allowed in. However, FDC secretary for mobilisation, Ms Ingrid Turinawe and other party members were stopped from entering and police locked the gate.
Meanwhile, the Democratic Party offices have also been sealed off by police ahead of a planned demonstration by the party members against lifting of the age limit.