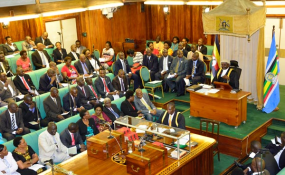 Photo: Dominic Bukenya/Monitor
By Paul Tajuba & Abu Lubowa
Kampala — The Inspector General of Police, Gen Kale Kayihura said unnamed people were plotting to set Kampala ablaze.
Today, MPs are expected to debate the presidential age limit motion which currently bars anyone above 75 and below 35 to contest as president.
Gen Kayihura said last evening while meeting pro-age limit removal traders in Mengo, a Kampala suburb that the Force had received "concrete evidence" about a sinister plan to burn buildings in Kampala and they are ready to counter it. The traders were requesting for permission to deliver their petition to Speaker.
"There are people, who want to use these processions as a cover to cause mayhem like what happened in 2007," Gen Kayihura said. He was explaining why police authorities banned processions against age limit removal.
In 2007, environmentalists, leaders and ordinary Ugandans went wild and demonstrated against a plan to give away part of Mabira Forest to an Indian investor, to grow sugarcane.
The demonstrations resulted into more than seven deaths.
"There are people who want to burn petrol stations, Parliament [today] and we have evidence," Gen Kayihura added without availing evidence to the media.
He revealed that Police had availed special security to MPs who are pushing for the removal of the age cap in the Constitution who have already received threats and will not tolerate further threats being issued by dissents.
On Tuesday, police summoned anti-age removal MPs but some didn't show up. They have since threatened to have them arrested anytime.
However, it is not the first time Gen Kayihura has made such statements.
In 2012 shortly after 2011 general elections, the police boss said they were privy to plans by the opposition to burn buildings in the city under the disguise of demonstrating against the outcome of the February 18 general elections. No building(s) were burnt by the opposition.
Gen Kayihura repeated the same claims in September 2012, this time saying they concrete information about plans by some terrorist groups to set certain structures in Kampala on fire.
Before meeting the traders, some police officers and traders locked themselves in a meeting for hours which was out of bound to journalists.