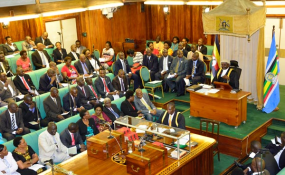 Photo: Dominic Bukenya/Monitor
Lawmakers, known for skipping House sittings, flood Parliament hours before Thursday afternoon proceeding.
- Low-flying police helicopter circles Parliament, something unseen in recent times.
- Speaker Rebecca Kadaga and her deputy Jacob Oulanyah access House through improvised back entrance instead of the main gate.
- Police turn some MPs away from accessing Parliament, block all from parking in the official car park.
- 20 junior ministers in an unprecedented move join two Cabinet ministers for a press conference announcing the Executive's endorsement of the plan to scrap age limit.
- Arrests, unrests as army, police place city under security lockdown
- Anti-terrorism police and army, carrying military-grade weapons, mass around Parliament
- Gun snatched from a policeman at Gazaland shopping mall on William Street in the city centre