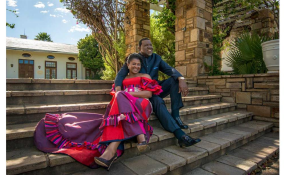 Photo: The Namibian Sun
First Lady Monica Geingos has dismissed allegations that her family is in the United States at taxpayers' expense, saying that only two of her sisters and her son are in America with her.
The Namibian yesterday reported that Geingos had to fend off accusations on social media that her family's trip to the US was being financed by government.
One of those who questioned Geingos was the former director of the Namibian chapter of the Media Institute of Southern Africa (Misa Namibia), Natasha Tibinyane.
Tibinyane asked whether it was true that Geingos was accompanied by her family to New York for the 72nd United Nations General Assembly, along with President Hage Geingob.
She also asked the First Lady if the state was paying for her family's trip.
In a media statement yesterday, Geingos said she has five siblings, and that only two of them were in New York.
"One sibling is with her employer on (an) official assignment to the United Nations General Assembly.
"The second sibling is here for leisure. She travelled on a commercial flight, and is staying at a hotel which is about one kilometre away from our accommodation," explained Geingos.
Reacting to comments on social media to pictures posted by her sister, Tashia Kalondo, of herself in Times Square, Geingos said the posting of a selfie in New York did not warrant unsubstantiated allegations that her parents were also on holiday at the expense of taxpayers.
"I have and will continue to spend substantial private resources for the care and maintenance of my immediate family, and as long as I don't do so at the expense of taxpayers, I humbly request that my privacy in this regard be respected," she stated.
Geingos also revealed that her son was in New York, and that she had paid for him to be there.
"I would be deeply pained if my decision to ensure I execute my parental responsibilities and spend time with my son is scandalised as an abuse of state resources or untimely, as it is entirely within my discretion to make this decision of who in my family I would like to indulge or spend time with," she said.
She also said her parents had not accompanied her to New York.
"My parents are not in New York and the journalists who were referenced by Ms Tibinyane as having told her that they knew of the presence of my parents in New York were either lied to or have lied," she said, referring to the stories being spread on social media platforms as "weaponised lies".
Although a State House source had claimed that the First Lady's family trip had been funded by the state, The Namibian could not verify the claim.