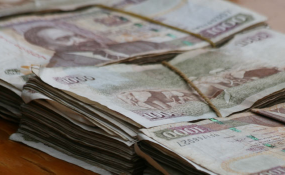 Photo: Capital FM
By Brian Ngugi
The Central Bank of Kenya (CBK) remains unclear on when it will roll out the new-look currency as stipulated in law amid mounting legal concerns on the delay.
CBK governor Patrick Njoroge on Tuesday did not explain the delay nor provide time-lines on the expected roll-out, only saying the process is on course.
"We are in the business of having the new generation currency that is consistent with the Constitution and we will do this in accordance with the Central Bank Act and to all other laws that govern that whole process," he told a media briefing.
The CBK risks legal action for the delay in rolling out the currency as required by the Constitution.
Activist Okiya Omtatah recently threatened to go to court to protest the same. Article 231(4) of the Constitution outlaws currency bearing portraits and images of individuals yet notes and coins bearing such features remain in circulation meaning they are in violation of this clause.
"This letter is to demand that within seven days from today, the CBK publicly declares that it will with immediate effect begin withdrawing all unconstitutional currency notes and coins from circulation and replace them with those that don't bear the image of any individual," Mr Omtatath said recently in a letter to the CBK governor.
"Kindly note that failure on your part to respect, uphold and defend the Constitution as required will necessitate our recourse at the rights division of the High Court for orders compelling your compliance" the letter further stated.