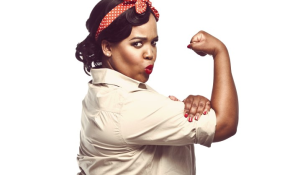 Photo: Tumi Morake
Jacaranda FM on Thursday said presenter Tumi Morake had its "full support", adding that it is "at times impossible" not to offend listeners.
"We never intend to offend or alienate a single listener, but this is a delicate, and at times impossible, balance," the broadcaster said in a statement.
"It's our responsibility to be a constructive platform for conversations that matter to our community."
Breakfast show host Morake landed in hot water on September 12 after she compared apartheid to a bully taking a child's bicycle, and then the child being made to share the bicycle.
A Pretoria business then threatened to pull advertising from the radio station, while trade union Solidarity laid a formal complaint with the South Africa Human Rights Commission (SAHRC), HuffPost SA reported.
A Facebook page called "Boycott Jacaranda 94.2 FM" gathered 36 000 likes since the incident.
'Open dialogue' In the statement, Jacaranda FM said Morake's comments did not contravene their internal editorial guidelines or the Broadcasting Code of Conduct.
"While the comments have clearly been construed by some of our valued listeners in a way that has caused offence, hurt and anger, this was not the intention, and this is regrettable."
The radio station said it had also referred the incident to the Broadcasting Complaints Commission of South Africa (BCCSA).
"On the eve of Heritage Day, we call on all South Africans to engage in open dialogue on these important subjects and to not stand for aggression, racism and victimisation toward those that offer differing viewpoints."
Meanwhile, Kagiso Media, the company which owns Jacaranda FM, congratulated Morake for "expressing a legitimate point of view on the impact and result of apartheid".
"[Morake had] the willingness to engage and listen to contrary views. She does this despite criticism, intimidation and threats from some parties in our society," CEO Mark Harris said in a statement.
He said strong leadership was required to build a united South Africa.
"There are few leaders who are not tainted by political agendas, but with a free media we have the opportunity to remove the barriers that prevent us from building a harmonious non-racial society," Harris said.
Source: News24