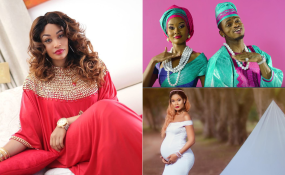 Photo: allafrica.com
Despite Diamond Platnumz saying that he is prepared to pay the highest price to ensure that he does not lose Zari Hassan after he cheated on her and sired a baby with model Hamisa, it seems like the union might soon be headed for a split.
Diamond, on Tuesday, publicly apologised to Zari on Tanzania's Clouds FM and declared he would crawl on his knees all the way to South Africa if he had to earn her forgiveness and trust.
However, Zari seems to be disinterested in his apologies. In a series of cryptic posts, Zari seems to be preparing for a "war" with Diamond.
In her Snapchat post on Thursday, Zari hinted at a split when she posted:
"Good morning from the General who never needs an army but when she pulls the trigger, the bullet will crack your skull to pieces."
It's worth remembering that two months ago, when the Mobeto affair with Diamond rumours started doing rounds, Zari dropped Diamond's name when she stated on her Instagram post that she was no longer Latiffah Dangote but Latifah Hassan.
We await with bated breath what the power couple's next move will be.