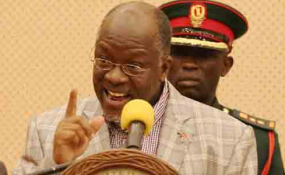 Photo: File photo/The Citizen
By Alex Malanga
Dar es Salaam — The Law Society, the Bar Human Rights Committee (BHRC) and Bar Council of England and Wales (BHRC) have written a letter to President John Magufuli to urge him to immediately carry out an independent and effective investigation of the facts and circumstances of the shooting of Singida East Member of Parliament Tundu Lissu.
The lawmaker, who also doubles as the President of the Tanganyika Law Society (TLS), was on September 7 shot in the stomach and legs by unknown assailants at his Dodoma residency.
"The shooting of Mr Lissu, and other events that have taken place with regard to members of the legal profession and the TLS in particular, are of great concern. It is of the utmost importance that the independence of bar associations be respected, since this is an essential element to guarantee the effective functioning of the rule of law," reads the letter in part.
The letter, which was signed on Wednesday by the Law Society President Joe Egan, the Bar Council chairman Andrew Langdon and BHRC chairman Kirsty Brimelow, added: "As with every citizen, members of the legal profession have the right to freely to express their opinion as well as entitled to exercise their professional duties without external interference."
In this regard, the Law Society, the Bar Council and BHRC respectfully remind the President of the international legal obligations that are binding on Tanzania and that reflect these rights and principles.
The three bodies also urge the head of state to deploy an independent investigation over other crimes being committed against members of the legal profession.
They include bomb explosion at the offices of IMMMA Advocates less than a month ago, a threat by the then minister for Constitution and Legal Affairs, Dr Harrison Mwakyembe, to de-giregister the TLS, over the past seven months and a recent proposal by the government to amend legal practice legislation with the effect of divesting primary regulation of the legal profession from the Bar and Judiciary to the ministry responsible for Justice.
"We understand that one of the partners of the law firm has been vocal about the decline in the rule of law in Tanzania and has referred to the alleged interference by State authorities with the exercise of the legal profession," the three bodies said in the letter.
"It is high time President Magufuli fulfilled Tanzania's international obligations, protect lawyers and ensure that they are able to perform their professional activities without facing intimidation, hindrance, harassment or improper interference," reads a part of the letter.