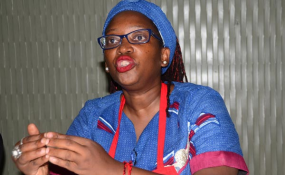 Photo: Daily Monitor
By Betty Ndagire
Kampala — The hearing of a case in which Makerere University Research Fellow Dr Stella Nyanzi is accused of calling President Museveni "a pair of buttocks" has flopped for the second time.
The state prosecutor Mr Jonathan Muwaganya told Buganda Road Chief Magistrate's Court that the trial magistrate Mr James Ereemye was sick.
Mr Muwaganya asked for an adjournment. The presiding chief magistrate Mr Jamson Karemani adjourned the case to October 23.
Magistrate Ereemye had previously advised Mr Muwaganya to seek orders from the Director of Public Prosecutions (DPP) on how to proceed with the case. This was after Dr Nyanzi's defence lawyer Mr Peter Walubiri sought court to either dismiss the case or order the state to produce its witnesses to allow a fair and speedy trial.
Mr Walubiri had asserted that any delay in trying Dr Nyanzi affects her as she cannot work for an earning with a suit hanging over her head.
"... under the Magistrate's Court Act (MCA) if the accused does not admit the truth of the charge court shall proceed to hear the case. She took plea of not guilty. The next process is for prosecution to present evidence," Mr Walubiri observed.
Dr Nyanzi is facing charges of cybercrime and offensive communication for allegedly referring to President Museveni as a "pair of buttocks" on her Facebook page.