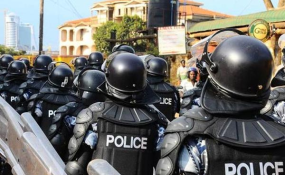 Photo: Daily Monitor
By Online Team
The Deputy Speaker Jacob Oulanyah, who is presiding over the on-going sitting, says he and Speaker Rebecca Kadaga conferred but decided that they needed more time to understand the two notices of motion and other notices.
Ms Kadaga returned from an overseas trip on Wednesday, ahead of what was expected to be a crucial debate on Thursday on a plan to scrap the presidential age limit.
The Caucus of the National Resistance Movement (NRM) party and later the Cabinet resolved on and endorsed back-to-back a proposal for Igara West MP Raphael Magyezi to seek leave of Parliament to table a Private Member's Bill to, among other things, amend Article 102(b) of the Constitution. The provision caps the upper age for a prospective President at 75 years.
In his communication to a House fully packed in anticipation of the age limit debate, Deputy Speaker Oulanyah says one of the notices they received was accompanied with a motion while the other was not.
There are also other notices submitted to the Speaker's office which are being studied.
Mr Oulanyah says they cannot allow a matter for debate in Parliament to be "sneaked" outside the specified procedures because the Rules of Procedure require members to be informed in time to allow them to fully prepare and debate.
He says the MPs will, at an "appropriate time", likely next week, be informed of the determination by the Speaker's office on the notices of motion.
The deputy Speaker also criticises the siege by police and the army, which resulted in the Speaker and his deputy accessing Parliament through improvised back entrances. The "blockade", he says, is unnecessary but he urges lawmakers to conduct themselves and speak responsibly to deny outsiders a reason to interfere with parliamentary business.
Ms Winnie Kiiza, the Leader of Opposition in Parliament, says security forces went overboard, besieging homes of political leaders, arresting others including the Kampala Lord Mayor Erias Lukwago and brutalisation of Makerere University students one of whom was injured by a rubber bullet.
The MPs are currently debating a proposal by LoP Kiiza to have the House adjourned to allow members to take care of security concerns.