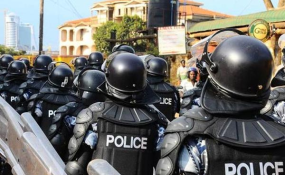 Photo: Daily Monitor
By Nelson Wesonga
Kampala — The nearly two-dozen ministers gave four reasons to justify the Executive's support for the proposal to amend Article 102(b) of the Constitution to expunge the age limit on a president.
1- Citing the 1993-95 Constituent Assembly (CA) debate, Government Chief Whip, Ms Ruth Nankabirwa, says: "In the CA, we voted for a deletion. [James] Wapakhabulo [the CA chairman] put a question and the deletion carried the day. But because people were rushing, the drafters put this clause [on the age limit] there. You can go and consult the Hansard."
2- The ministers said they doubled as Members of Parliament (MPs); it is only fair that they support one of their own, Igara West MP Raphael Magyezi, who is expected to shortly seek leave of the House to draft a Private Member's Bill to lift the age limit.
3- Scrapping the age limit, the ministers said, is meant to ensure the youth, who account for close to 80 per cent of Uganda's population, are not blocked from contesting for many elective positions.
4- The amendment should be done now because constraints of time will may not in future permit execution of the drawn out legislative process.
Some of the ministers who attended:
1- Aggrey Bagiire, State Minister for Transport
2- Kasirivu Atwooki, State Minister for Planning (Office of the President)
3- Fredrick Ngobi Gume, State Minister for Cooperatives
4- Evelyn Anite, State Investment Minister
5- Simon D'Ujanga, State Energy Minister
6- Bright Rwamirama, State Minister for Veteran Affairs
7- Moses Kizige, State Minister for Karamoja
8- Dr Chris Baryomunsi, State Minister for Housing
9- David Bahati, State Minister for Planning
10- Obiga Kania, State Minister for Internal Affairs
11- Persis Namuganza, State Minister for Land
12- Grace Kwiyucwiny, State Minister for Northern Uganda
13- Rose Seninde, State Minister for Primary Education
14- Jennifer Namuyangu, State Minister for Local Government
15- David Karugaba, State Minister for Public Officers
16- Dennis Ssozi Galabuzi, State Minister for Luwero Triangle
17- Ernest Kiiza, State Minister for Bunyoro Affairs
18- Chris Baryomunsi, State Minister for Housing
19- Okello Engola, State Minister for Defence
20- Michael Werikhe, State Minister for Trade
21- Godfrey Kiwanda, State Minister for Tourism
22- Mary Karooro Okurut, Minister for General Duties, Office of the Prime Minister
23- Ruth Nankabirwa,(Government Chief Whip).