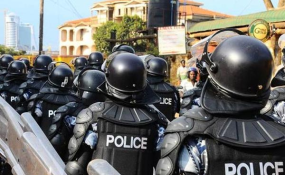 Photo: Daily Monitor
By Olive Eyotaru
On Tuesday, the cabinet wing of the NRM moved to regain the initiative from party MPs who appeared to have upstaged them with their surprise September 12 'consultative meeting' at which a private member's bill to scrap the presidential age limit was given the much-needed nod of approval.
Government Chief Whip Ruth Nankabirwa ensured that when the NRM caucus met, Igara West MP Raphael Magyezi got the party's formal seal of approval to draft a private member's bill to amend Article 102(b) of the Constitution.
The appearance of parallel platforms was amplified during the caucus meeting on Tuesday. Similarly, talk of a possible trade-off was being dangled as a compromise position - with the two five-year term limits being returned in exchange for kicking out the age limit.
Sources tell The Observer that in her opening remarks, Nankabirwa said a lot has been going on in regard to the age limit debate and the consultative meeting driven by NRM's parliamentary commissioners. She reportedly stated that her office had no hand in mobilising the meeting attended by over 240 MPs.
"The chief whip distanced herself from being part of the commissioners' meeting, stating that she respects issues of procedure in as a far as the caucus is concerned," a source who attended the meeting intimated to The Observer.
Nankabirwa reported that she had received notices for motions from MPs Magyezi and Kassanda North MP, Patrick Nsamba Oshabe, whose motion sought to urge government to urgently constitute a Constitutional Review Commission (CRC).
Both Magyezi and Nsamba were invited to present their motions to very charged members, who kept shouting that,
"Tujjagikwatako" loosely meaning, "We shall amend Article 102(b)".
Magyezi took the floor first. His submission attracted loud cheers and claps. Nsamba, on the other hand, unsuccessfully pleaded with the NRM MPs to back his motion, on grounds that early this year, government committed to set up the CRC.
His pleas to have his motion merged with that of Magyezi were rejected by majority, who demanded that Magyezi takes the lead while Nsamba's prayers are appended.
At one point, the caucus leadership asked both MPs to step aside, consult on both their motions and come to a consensus.
For close to 20 minutes, the two legislators exchanged notes to no avail. When their failure to agree was communicated to the meeting, the caucus leadership called a vote.
First to be voted on was Nsamba's motion. Out of the 296 MPs who attended, four voted for the motion while 292 rejected it. In Magyezi's motion, seven people voted against; two abstained while 287 supported it.
The results infuriated some of the MPs including Nsamba, Monicah Amoding (Kumi Woman), Theodore Ssekikubo (Lwemiyaga), John Baptist Nambeshe (Manjiya) and Okot Ogong (Dokolo South), who walked out in protest.
Ssekikubo told The Observer that the caucus, using the tyranny of numbers, failed to see reason and highlighted the government's incompetence in failing to live up to its promise.
However, Prime Minister Ruhakana Rugunda reportedly chipped in to defend government. There were also "silent" protests from some legislators during the meeting. Even though they did not raise the matter before the caucus, The Observer heard them complaining in the corridors at Parliament that Nankabirwa's meeting was stage-managed.
One of the MPs from Buganda sub-region accused the caucus leadership of carefully selecting members who spoke while ignoring those who are critical of the party position.
"It was clear that she wanted to gag us and did not want to listen to both sides. It is just so disappointing," the legislator said. Nambeshe said there were many legislators in support of the Nsamba motion; however, they feared to speak out for fear of reprisal.
But Nankabirwa, while addressing the media at her office yesterday, insisted that both motions were treated fairly.
"Debate ensued and we took a vote and Magyezi's motion was overwhelmingly carried," Nankabirwa explained.