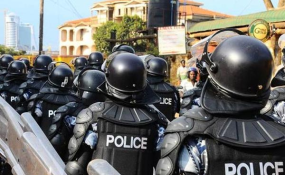 Photo: Daily Monitor
editorial
By Editorial
Uganda Human Rights Commission chairman Medi Kaggwa has accused the state of exercising double standards in the way its agents deal with activists opposed to the amendment of article 102 (b) of the constitution that deals with presidential age limits.
"I have watched television and the manner in which the groups opposed to the amendment are handled, [and] arrested, is bad, compared to the supporters of the bill, who are given police protection," Kaggwa told journalists on Tuesday.
Pleading with the police to desist from discrimination while executing their duties, the UHRC boss defended the right of activists opposed to scrapping the age limit to enjoy their freedom of speech and assembly.
Kaggwa, who spoke before the events of Wednesday and Thursday, which saw more politicians and activists opposed to the proposed amendment being arrested, couldn't have said it better. Being the head of the state's own human rights institution, his advice should not only be heeded but also taken in good faith.
From summoning MPs opposed to the proposal for incitement but ignoring a minister who said their side has the support of the army, to allowing processions in favour of scrapping the age limit but clamping down on those against it, the police have left no doubt that they have a side.
On Wednesday, civil society groups ActionAid International and Great Lakes Institute for Strategic Studies had their offices raided for unclear reasons. It's believed they are being targeted for their stance on the age limit amendment proposal.
Yesterday (Thursday), the state came out in full force to restrict the movement of politicians and activists suspected of planning to protest ahead of the anticipated debate in parliament.
In many of these instances where individuals' liberties have been curtailed, there was no indication that those arrested posed a threat to public order.
It is, therefore, plausible to conclude that actions of the police were politically motivated with the aim of intimidating or undermining the victims' cause.
As Uganda Human Rights Commission boss Mr Kaggwa pointed out, the behaviour of state agents smacks of discrimination and double standards. It is bad.