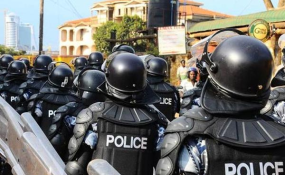 Photo: Daily Monitor
By Baker Batte Lule & Jonathan Kamoga
Random arrests of opposition politicians and a show of military strength in Kampala dominated much of yesterday as a tension-packed parliament waited but did not to receive a motion for the deletion of article 102 (b) of the Constitution, which caps the lower and upper age for presidential candidates at 35 to 75 years.
Outside parliament, police scoured all corners of Kampala and Wakiso districts for possible troublemakers. Interviewed yesterday for official statistics, Kampala metropolitan police spokesperson Emilian Kayima said in all, 48 people were arrested yesterday in Kampala as they tried to march to parliament to stop the tabling of the controversial private member's bill.
Among those arrested was Kampala lord mayor Erias Lukwago. The mayor was violently grabbed from his gate in Wakaliga, Lubaga division, as he addressed journalists and bundled into a waiting police truck.
Protesting loudly, Lukwago was whisked off to Kira police division in Kira municipality and later moved to Naggalama police station in Mukono district. Also arrested were KCCA councillors Doreen Nyanjura, Faridah Nakabugo and Ismail Ddamba.
Democratic Party president general Norbert Mao was arrested early in the morning at parliament and by 5pm he was still held at the Central police station, Kampala.
Mao told us he had spent some hours of his morning trying to appeal to donors to interest themselves in what was going on. He said it smacks of double standards for embassies in Kampala to go up in arms against the anti-homosexuality bill and then keep quiet when the constitution is about to be abused.
Mao said he was picked from the parliamentary gate and bundled into a waiting car, accused by police of carrying materials that incited violence.
"I chose to express myself by wearing a T-shirt and also hold placards, which I wanted MPs to read. I'm at CPS where I'm not under arrest but also not free," Mao said.
At the Forum for Democratic Change strongman Kizza Besigye's home, police deployed heavily to prevent him from leaving. But speaking to The Observer, Ronald Muhinda, Besigye's personal assistant, said the colonel wasn't at his home when police stormed.
"I can't say where he is now but just know he is around and you will hear from him," Muhinda said.
At Makerere University, police cordoned off all entry and exit routes. At the different halls of residence, police and military police beat up and arrested students.
At Mitchell Hall, soldiers were seen kicking doors to students' rooms and dragging them out. Those arrested include student leaders, Paul Kato, the guild president, and Simon Wanyera and Ronald Ainebyona.
In Kikoni, along Sir Apollo Kaggwa road, students lit bonfires and threw stones into the road, closing it off momentarily. Police fired teargas and live bullets to disperse them.
"President Museveni has stayed more than his welcome and he wants to extend this unwelcome stay. As students, we shall not allow him to kugikwatako [touch article 102 (b)," one student shouted.
"Great people may be killed but never intimidated. Don't touch article 102(b)," read one placard.
At the DP headquarters, police equally cordoned off the premises, restricting access to party members who were expected to converge there before marching to parliament. Speaking to The Observer yesterday, Mukasa Mbidde, the party vice president, said it was unfortunate that police and the army had taken over the offices of a lawful political party.
Mbidde further said their planned procession to parliament had been thwarted because many of the party leaders had been caged in their homes.
"We have several other plans, which we will execute in order to continue to apply pressure on parliament to drop this bill," Mbidde told The Observer yesterday.
He said Deputy Speaker of Parliament Jacob Oulanyah had done the right thing not to include the anti-age limit bill on the order paper.
"The population is angry, the MPs are angry; you can't expect a plausible debate in that kind of circumstance. The coming days are going to be action-packed and we shall continue to appeal to our people to resist this move," Mbidde said.
At the FDC headquarters in Najjanankumbi where another procession to parliament had been planned, police deployed heavily, taking over the offices. Right from the Kibuye roundabout, military police, army officers and field police were seen on foot patrol. Acting Party President Alice Alaso decried the police action.
"It's unfortunate that police would take over the offices of a registered political party. If we had had access to our offices, members would have converged there and we would have marched to parliament but these activities have been put off for another day," Alaso told The Observer yesterday.
In downtown Owino and Kisekka markets, Old taxi park, business went on normally. Most shops remained open but still one could sense the day's tension. Soldiers and police patrolled on foot.
Meanwhile, patrol vehicles loaded with uniformed police and men in plain clothes sped through the busy roads occasionally prompting a few vendors to run off into nearby shops as some shouted, "Togikwatako," a slang that has come to be associated with those against the removal of the age limit.
There was heavy deployment uptown around Central police station, Kampala and the Constitution Square. Riot police cordoned off the areas while about four armoured police vehicles were positioned nearby.
Some Kampala leaders who were themselves stopped from marching vowed to carry on with their Togibikkula campaign.
"Our campaign is just starting, we shall have a series of activities to try and defeat this evil proposal," Kennedy Okello, the FDC chief whip, told this newspaper yesterday. He said they planned to visit MPs' homes.
"Most of these MPs reside within Kampala or its suburbs; we shall individually visit them as good neighbours and appeal to them in the presence of their wives not to rape our constitution," Okello said.
Justice Forum President Asuman Basaalirwa said the heavy military presence won't cow the opposition.
"The country is on tension, we have seen police violently arresting our people who are trying to resist amending our constitution. The country should prepare to resist this entire exercise because it will cause us problems," Basaalirwa said.
Ssemujju Ibrahim Nganda, the opposition chief whip, urged Ugandans to pile pressure on government to drop the proposal.
"Museveni went to the bush when they were only 27 but now he prides himself in having numbers. Sometimes it's not about having numbers to be able to stop them," Ssemujju said.
"From today onwards we shall never walk out of parliament, and if we are to die let us die in parliament. More than before, we are prepared to stop them. Today they knew it was going to be bloody,"