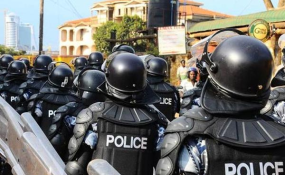 Photo: Daily Monitor
By Baker Batte Lule
A former aide and avid supporter of President Museveni has said the country could fall apart if parliament amends Article 102(b) and removes the cap on presidential age limit.
Speaking to The Observer at his office in Najjeera in Kira municipality on Monday, Morrison Rwakakamba, who was in charge of research and information at the President's Office, called upon all Ugandans to do whatever they can to rein in their MPs.
"Citizenship and patriotism come before other loyalties, be it the party tribe and faith. I call upon everybody, in a peaceful way, to act by, say; writing to his/her member of parliament and express fears about the removal of age limits," Rwakakamba said.
"It could be a text message, or a protest to say, look we can defend and protect our constitution. It could be organising town hall meetings or fireplace conversations with the leaders of the community," Rwakakamba said, observing that the battle to save the presidential age limit must not be left to MPs alone.
"The most important thing here is to look at this beyond our members of parliament, because this is a very consequential decision that goes beyond the deletion; we will be removing the last firewall that guarantees peaceful transition in this country. If it passes, it portends trouble for the country and it pushes Uganda's risk profile [through] the roof."
Asked about why he thinks the Museveni he vehemently supported in the 2016 elections, portends trouble for Uganda less than two years into his fifth elective term, Rwakakamba said he never thought Museveni could contemplate what is going on now.
"I really did not see President Museveni tampering with the Constitution or covertly trying to stimulate members of parliament to overthrow it. I thought this was kisanja hakuna mchezo [term for doing serious work]; the manifesto was very fantastic," Rwakakamba said.
"You see you are faced with a life presidency and opening this window is allowing Museveni to be here not only beyond 2021, but 2026, or even 2031... ,"
See full interview in Monday issue