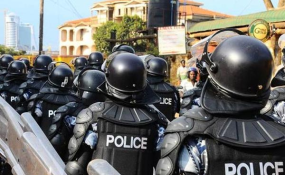 Photo: Daily Monitor
By Sadab Kitatta Kaaya & Olive Eyotaru
Tempers flared in Parliament as MPs turned yesterday's sitting into a shouting match even as the House leadership denounced the heavy military and police presence around the premises.
A senior opposition leader also accused the armed forces of staging a coup on Parliament. Eventually, the chaotic afternoon session was brought to an end with deputy speaker Jacob Oulanyah adjourning proceedings to next Tuesday.
"What we have seen today is exceptional and the blockade that we have seen, I don't know whether it was necessitated by something, but, in my opinion, I think it has gone way beyond what it should have been," Oulanyah said.
In the frenzy, Prime Minister Ruhakana Rugunda could barely make himself heard on the heavy security around Parliament and the arrests of opposition supporters.
Dr Rugunda had said the security deployments were "absolutely necessary" and wondered why opposition MPs were making a fuss about it.
"There have been incidents reported by colleagues; those incidents are going to be investigated and the necessary measures taken ... But I must say that we are sitting here comfortably," Rugunda said.
Opposition MPs shouted him down. Oulanyah found himself in an even more difficult spot as the opposition whipped out whistles. Mukono Municipality MP Betty Nambooze grabbed and started ringing the Speaker's bell while her colleagues belted out the national anthem.
Then Aruu South MP Samuel Odonga Otto demanded that the minister of state for Investment and Privatisation, Evelyn Anite, be dragged before the House disciplinary committee -- for putting the lives of MPs in danger with her claim that the anti-age limit group is backed by the army.
Today's plenary was charged and minister Evelyn Anite was a central figure 📹 @bamulanzeki #AgeLimit #Uganda pic.twitter.com/5DtXNCIcHf
-- The Observer (@observerug) September 21, 2017
Oulanyah said: "We need to demonstrate to all and sundry that whatever everyone is fearing is not in this House; that it cannot be the members of this House to create chaos ... "
I will not be a presiding officer of this House to smuggle in things that have not gone through processes so that the whole House can predict and prepare to engage in a debate on any matter."
Leader of Opposition Winnie Kiiza denounced the massed security, saying that the military occupation of a place where MPs should be free to represent the people must be condemned in the strongest terms possible.
"I almost dropped dead when I heard that the Speaker of Parliament could not be allowed access to the main entrance of this Parliament."