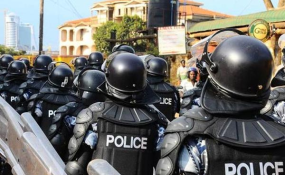 Photo: Daily Monitor
By GODFREY SSALI
Kampala — The much anticipated motion for MP Raphael Magyezi seeking leave of parliament to introduce a Private Member's Bill to amend the constitution was not even on the Order Paper Thursday afternoon, but that did not diffuse tension that had been building all day.
Chaotic scenes in and outside Uganda's parliament were relayed live on television, as opponents and supporters of proposed amendments to the constitution, dubbed the "Age Limit Motion" argued their cases, many times physically.
When it all settled down, Deputy Speaker Jacob Oulanyah, amidst shouts of "order", and singing by some, had two problems, that he resolved tactfully.
"There are two problems and they are big problems; one is that members are not ready to sit and the second problem is that the speaker is not ready to chair a parliament that does not want to sit. Therefore, this house is adjourned to Tuesday at 2:00 o'clock," ruled Oulanyah.
Parliament therefore adjourned without debating the much anticipated notice of motion seeking absence of leave by Magyezi to introduce a constitutional amendment bill to lift the presidential age limit, among many other things.
Magyezi (Igara West,NRM) was expected to present a motion seeking leave of parliament to introduce an omnibus Private Member's Bill to amend Articles 102 (b), 108(3a) and 108(4) in a move seen as a significant step towards securing a free run for President Yoweri Museveni to seek re-election in 2021.
The incumbent Museveni is 73-years-old and is, under the current constitution, ineligible to stand in 2021 when Uganda is scheduled to hold its next presidential and general elections
Speaker and Deputy resolve debate for next week
In his communication to the house the deputy speaker Oulanyah indicated that after a morning meeting with speaker Rebecca Kadaga, they came to a conclusion that the notice of motion be considered at a later stage.
Oulanya noted they cannot allow a matter for debate in parliament, outside the specified procedures because the Rules of Procedure require members to be informed in time to allow them to fully prepare and debate.
"This matter that is being intentioned is not here today and a proper process will handle it and a determination of what will happen to it will be made by the appropriate organ of this house," said Oulanyah.
Leader of Opposition protests heavy security
The speaker's communication was followed by a statement by the leader of opposition Winnie Kiiza (Kasese district) in which she protested the "heavy presence of security at parliament, arrests of political leaders and brutality against students at Makerere University." (see protests video page 2)
Owing to the chaos that ensued preceding plenary, Kiiza asked the Deputy Speaker to adjourn the house to allow MPs absorb the shock associated with besieging parliament.
"I would request Right Honorable Speaker that you find it within your powers to adjourn the house to give members time to go and reflect on what has happened today, stated Kiiza, adding that "Parliament needs a working environment that is secure and free of intimidation, what is happening in the country should not be taken lightly."
Rugunda explains security actions
In his response, the leader of Government Business in parliament and Prime Minister Dr. Ruhakana Rugunda justified the heavy deployment around parliament prompting heckling from opposition MPs and some independents.
"This debate has caused some bit of violence, tension and political excitement in some areas which could easily get out of hand. It is absolutely necessary for security organs to be on alert to ensure that preventive measures are taken to safe guard parliament and the country," said Rugunda.
There was also drama in the house as Samuel Odonga Otto (Aruu North,FDC) moved a motion that one of the architects of the age limit motion, State Minister of Finance for Investment and Privatization Evelyn Anite (Koboko municipality) be dragged to the disciplinary committee and suspended from the house for eight years.
Aruu County MP Odonga Otto asked that the minister be taken to the parliamentary disciplinary committee for endangering lives of MPs purported to be supporting the lifting of presidential age limits.
Otto who raised a procedural issue under rule 163 said "Anite's political antics are endangering lives of MPs" purported to be supporting the lifting of presidential age limits.
Otto accused Anite of publishing an attendance list of pro-age limit MPs in the media hence putting their lives in danger.
"Anite displayed an attendance list of MPs to the media and said that it was a list of those who had endorsed the lifting of the presidential age limit and as a result, a woman has this afternoon been attacked by a mob in down town Kampala, thinking that she was Juliet Ssuubi Kinyamatama (Rakai, NRM)," said Otto.
Several ministers, including the Chief Whip Ruth Nankabirwa had early in the day held an elaborate press conference to explain that cabinet supported the Age Limit motion.
The current laws on presidential elections mandates candidates be between 35 and 75.
In 2005 parliament passed a constitutional amendment removing presidential term limits which allowed Museveni to stand for a third, fourth and fifth term.
At the climax of the heated debate in Parliament, deputy speaker Oulanya decided to adjourn the house.
"There are two problems and they are big problems; one is that members are not ready to sit and the second problem is that the speaker is not ready to chair a parliament that does not want to sit. Therefore, this house is adjourned to Tuesday at 2:00 o'clock," ruled Oulanya.
Red headbands
In a show of solidarity Opposition MPs and some Independents pulled out red headbands which they wore as they sang the Uganda National anthem while marching out of parliament following the adjournment.
It brought to an end a dramatic Thursday had started with arrests, marches in Kampala and several places across the country despite Police chief Gen Kale Kayihura having banned any protests.
Police fired teargas at students who defied a police order banning protests as they demonstrated the proposed removal of presidential age limits.
Police on Wednesday had issued an order banning protests, but this was ignored by hundreds of students at the country's main Makerere University.
The students were tear-gassed, chased and detained by armed officers in return.
The students in the capital Kampala waved branches and chanted "K'ogikwatako!" -- meaning "Don't dare touch it!" in the local Luganda language -- in reference to the constitutional clause on age limits.
Armed officers -- including military police -- fired volleys of teargas forcing the students to flee to their residence halls and hostels.
Prominent opposition politicians were also detained or arrested on Thursday, including opposition leader Kizza Besigye, who has lost four successive elections to Museveni. Also detained was Kampala Mayor Irias Lukwago.
Small protests also took place elsewhere in the capital and the country.
In the northern town of Lira, demonstrators left a mock coffin at a central road junction with "The removal of the presidential age limit is the death of our country" painted on the side.
On Wednesday evening Ugandan police raided the offices of a charity and a think tank which have publicly opposed the constitutional change.
US Ambassador to Uganda Deborah Malac said Thursday she was "deeply concerned" by the situation.
"We call on the Government of Uganda to guarantee all its citizens freedom of speech, expression, and assembly, without fear of intimidation," she said in a statement.
The day ended with events of the day on all the late night TV shows. Social media was also dominated by the highs and lows of the day, including an incident where MP Betty Nambooze tried to take off the cap of MP Abiriga in the middle of a live NTV show.
On NBS TV, government spokesman Ofwono Opondo said the ruling National Resistance Movement (NRM) has the required numbers to push through constitutional ammendments constitutionally, and it is a matter of time before the "Age Limit Motion" is tabled. He said he was confident it would be passed eventually.