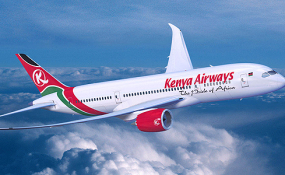 Photo: Nation
By Kennedy Kangethe
Nairobi — Kenya Airways Chief Executive Sebastian Mikosz has defended his decision to hire Polish expatriates as part of the airline's management team in its efforts to return to profitability.
Mikosz says the five are expats in airline management adding that their experience is necessary for Kenya Airways in the short term.
"The reason why they came is because I have worked with them before and I know the expertise and experience they bring. They are here for three months but I don't know if they will stay longer or not," Mikosz said.
KQ Board Chairman Michael Joseph adds that the team is necessary to help the CEO implement his turnaround plan, assuring that no jobs will be lost.
"The Board and the Board's HR committee agreed to support Sebastian to bring the team. They are not here to take anyone's job," Joseph adds.
Prior to joining KQ, Mikosz has been the President and CEO of LOT Polish Airlines, the flag carrier of Poland. He has also been CEO of eSky.pl, the leading Central European Online Travel Agent and is known for his ability to turn around struggling airlines.