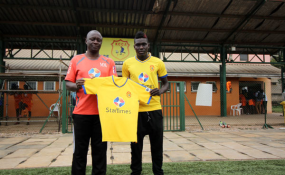 Photo: Ismail Kezaala/Daily Monitor
By Denis Bbosa & Darren Allan Kyeyune
Kampala — It was a soap opera-like unveiling moment that put many stakeholders on tenterhooks as the local transfer window folded yesterday.
All was set for KCCA to unveil their marque signing Muhammad Shaban from Onduparaka at 11am at Lugogo until disagreements over transfer fees popped up forcing the player to stay glued in the car park for a while.
It was then that it dawned upon the media that the deal was half baked as KCCA officials literally fell over themselves, begging Shaban and his father to enter their offices to sign the deal.
The presence of player intermediary Ronald Mwine brought out another aspect, Vipers were lurking in the shadows ready to hijack the deal with a 'bigger offer'.
It was a tense, appalling and frantic moment exacerbated by Shaban's representatives demanding that a portion of the transfer fee be physically availed before they put to paper - something KCCA administrator Moses Kaddu adhered to by rushing to collect the money in a black bag.
Yet Onduparaka executive were also still contesting Fufa's directive to 'order' Shaban join KCCA.
"Shaban can only cease to be an Onduparaka player after getting the release letter," their letter read in part.
I will tame Shaban ego - Mutebi
After the fracas, KCCA manager Mike Mutebi trudged into the press conference with his two new acquisitions; Shaban and Allan Kateregga (from FC Leopards).
"He's (Shaban) a KCCA fan. He's been a king in Arua. Here, no. We are privileged to have three centre forwards; Nsibambi (Derrick), Tito Okello and Muhammad Shaban. We have a responsibility to tame this young man. I have been watching him since his primary at Arua Public School," Mutebi said moments before Shaban inked a three-year contract.
Mutebi anticipates the transfer doesn't build an acrimonious relationship between the two clubs.
"I have spoken to the club (Onduparaka) and his parents. I told him to go and apologize because they gave him a platform and that's how we managed to see him. He must be disciplined."
Shaban is expected add to KCCA's striking pool that includes Nsibambi, Patrick Kaddu and Tito Okello but Mutebi is adamant to call him a direct replacement to departed Geoffrey Sserunkuma.
"Forget Sserunkuma. This is Shaban. Shaban is a goal scorer. When I brought Sserunkuma, you doubted me, saying that he had aged. He's now back to the Uganda Cranes set up.
"Shaban, don't worry about the hunger (for trophies). All you expect from a big club is they must win. You can achieve if players push each other."
KCCA inexplicably barred Shaban from speaking at his unveiling as is the norm worldwide and so Mutebi shouldered the burden of explaining how he will deal with the 'infant terrible'.
"I am being honest. I know how players from West Nile react. He has been the king where he has come from. But here, no! That already puts him in the right frame. Don't worry about him. I will deal with him.
"I am not being tribalistic but being rather honest. We may find it difficult but they know."