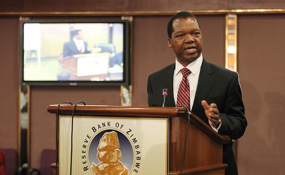 Photo: The Herald
The Reserve Bank of Zimbabwe (RBZ) governor John Mangudya has reportedly said he never at any time claimed that bond notes would end the cash crisis, insisting he was here to stay.
This is according to the Zimbabwe Congress of Trade Unions (ZCTU) whose bosses this week confronted the RBZ boss following the apparent failure by bond notes to address the cash crisis.
A ZCTU delegation, led by First Vice President Florence Taruvinga, met with Mangudya Monday at his offices where they reminded him of his pledge to step down in the event the surrogate currency, introduced last November as an incentive for exporters, failed to address the economic crisis.
The delegation, however, left a disappointed lot after the central bank boss declared he was not going anywhere, arguing that he was not responsible for the continued crisis, blaming it on fiscal indiscipline.
At the introduction of the surrogate currency, Mangudya assured the nation that it was the panacea to the country's problems and offered to resign if it failed to turn around the country's economy.
He said he would not return the country to the 2007-2008 era, saying the bond notes were a different matter altogether.
"Give us a chance to do what is right for this economy, to put it back on track. If these policy measures fail, if the bond notes don't work out, I am willing to resign because I am genuine about getting the economy back on track," Mangudya said at a meeting with players in the mining sector in Zvishavane last year.
But ZCTU Secretary General, Japhet Moyo said Mangudya should stand by his word and resign because the situation had worsened.
"Under pressure from our members, we decided to engage him and remind him of his words. Our members did that on the back of a complete dry-out of money at banks. Now money is being found on the parallel market and all these problems we had warmed him against and are with us now. So we want him to stand by his words and resign," he said.
"The RBZ has failed and him as a person should throw in the towel as he promised. To our surprise, when we met him this morning (Monday) he chose to push the buck to someone else and blames fiscal indiscipline within the government," he added.
Moyo said the central bank governor told the ZCTU delegation that he was misunderstood as he never said bond notes would deal with the cash crisis, adding he felt the country needed fiscal discipline as it was currently consuming what it did not have.
Efforts to get a comment from Mangudya were fruitless.