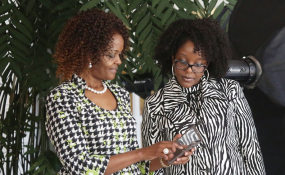 Photo: The Herald
A Harare woman who masqueraded as First Lady Grace Mugabe's security officer before duping an investor of $156 000 was Thursday dragged before Harare magistrates' court facing theft charges.
Aphia Nyasha Musavengana, 23, appeared before magistrate Babra Mateko and was released on bail with reporting conditions.
Court heard that in August, last year, Musavengana cheated Lukas Ignatius Fabris from Israel after lying that she was carrying security checks in his company which he jointly owns with one Love Chamatowa.
Musavengana allegedly urged Fabris to give Chamatowa his benefits if he wanted to work without disturbances in the country.
Fabris then called a CIO officer, Delish Nguwaya, to verify what Musavengana really wanted.
Court heard that Fabris went on to give Chamatowa a tractor and $30 000 in benefits.
Musavengana then allegedly told him that he was supposed to pay $120 000 to facilitate permanent residence permit.
She told Fabris that the money was going to be donated to Mugabe's orphanage in Mazowe in order for him to secure permanent resident status.
Fabris was told that once he had paid the amount, he would be able to meet Mugabe personally.
He then released $80 000 towards that agreement.
Musavengana then called Fabris to Zanu PF Headquarters where they held a meeting together with director of the ruling party's women affairs, identified as Ms Nyaningwe. Fabris paid another $20 000.
Court heard she told Nyaningwe that Fabris wanted to donate $75 000 to Mugabe's orphanage but Nyaningwe dismissed the duo telling them there procedures to be followed when one wants to donate.
Musavengana then asked for invertors (for solar panels) which she saw in Fabris's office saying she wanted to donate them to Zanu PF Women's League.
She was given 18 invertors and she donated 12 of them to Women's League and converted six to personal use.
Following this, Fabris received an acknowledgement from the Women's Leaugue but nothing was mentioned with regards to the money he donated.
That's when he realised that he has been duped.
Idah Maromo appeared for the state.