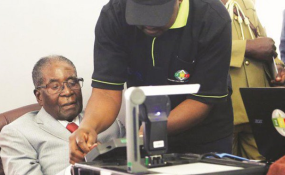 Photo: The Herald
Members of the MDC Alliance have condemned the Zimbabwe Electoral Commission's (ZEC) failure to handle the on-going voter registration process professionally, saying the entire exercise was slow.
MDC-T, the Welshman Ncube led MDC including the People's Democratic Party (PDP), in different statements Thursday, raised concerns over what they called "unprofessionalism in ZEC."
The parties said registration centres around the country are ill prepared for the exercise but view the move as a deliberate ploy by Zanu PF and ZEC to frustrate Zimbabweans who want to vote against impunity, mediocrity and failure.
"We mentioned that the BVR process would reproduce the chaos witnessed during the special voting process in July of 2017.
"Setting up a voter registration centre which has voter registration forms only enough to serve 20 people is not only an insult to the right to vote but a clear collusion with Zanu PF to disenfranchise people.
"A bunch of compromised individuals who failed to deal with a process involving just half a million people would not be expected to handle a registration process which involves seven million people," said PDP spokesperson Jacob Mafume.
The MDC said the BVR exercise has proved to be just a pilot testing or a trial and error exercise for ZEC as the process has been marred in unnecessary setbacks, chief among them, technical glitches.
"Reports from our observers across the country reveal that most of the setbacks experienced in the centers suggest that the registering officers are poorly equipped with knowledge of how to operate the BVR kits.
"We strongly condemn Makarau's docile and casual approach to the voter registration exercise because to the majority of Zimbabweans this process is important as it marks the first step towards overturning their plight of suffering at the hands of the Mugabe regime.
"It is therefore very wrong and unfair for Makarau to undermine the people by turning a vitally decisive process into a child's play," said MDC spokesperson Kurauone Chihwayi.
According to MDC-T, "ZEC is not entirely ready to roll out a massive BVR system. We, therefore, demand that the remaining 2600 BVR kits that are still to be delivered to ZEC by Laxton Group Limited be shipped to Zimbabwe as a matter of extreme urgency.
"We also demand full details, chapter and verse, of the company that is supplying the central computer system that is being used for the BVR system. This information is essential in order to give credibility to the whole BVR system.
"ZEC should also openly admit that so far, the BVR system, particularly in urban areas, has been nothing short of shambolic."
The MDC-T spokesperson Obert Gutu said the deployment of police officers at the centres is very intimidating and frightening.