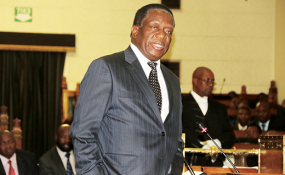 Photo: New Zimbabwe
By Zvamaida Murwira
Over 70 000 farmers have registered to participate in Command Agriculture in the 2017 /18 season and are ready to put close to 300 000 hectares of land under maize, Acting President Emmerson Mnangagwa has said.
Addressing a zanu-pf national fundraising business breakfast in Harare yesterday, Acting President Mnangagwa also indicated that financing partners had offered to contract 28 927,20 hectares under maize.
"As at September 15, 2017, a total of 72 254 farmers had registered 288 491,4 hectares of land to be put under maize production. As at the same period, a total of 10 025 farmers had registered 51 505 hectares of land to be put under soya been production," he said.
"Meanwhile, other financing partners have offered to contract 28 927,20 hectares under maize and 6 510 hectares under soya beans production. Let me take this opportunity to thank farmers, financing partners and other stakeholders throughout the agro-value chain for their continued support and commitment to Command Agriculture and the Presidential Input Scheme."
He said Government was working on a model to measure each province's contribution towards Gross Domestic Product.
"We are crafting a model from which we have to determine the contribution of each province. We must determine what each province is contributing to central Government," said Acting President Mnangagwa.
"Moreover, the designation of certain areas as Special Economic Zones must be seen as a start to the possibility of more areas being so designated. SEZs must place emphasis on productivity for only then will the country yield optimal benefits from the initiative." He said there were fundamental aspects that Government and all stakeholders ought to address for the success of the agricultural programme.
"Key among these is irrigation development as this will guarantee our ability to produce food even during times of drought.
"To this end Government has committed to increase irrigation capacity in every district throughout the country in the quest to achieve a target of 300 000 hectares of irrigated land. Once we reach this target, we will permanently say goodbye to hunger," said Acting President Mnangagwa.