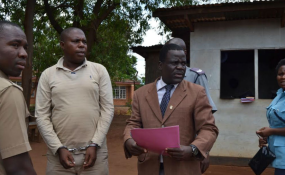 Photo: Watipaso Mzungu/New Times
By John Namalenga Jnr.
The Malawian High Court on Wednesday ruled to review the extradition case involving a Rwandan Genocide fugitive, Vincent Murekezi, against the wish of the prosecution.
The ruling by the high court followed an appeal by prosecution against a decision by the Lilongwe Senior Resident Magistrate Patrick Chirwa, ordering for the review of the case.
A successful businessman in the southern African country, Murekezi has for over a decade been a wanted man in Rwanda after he was tried and convicted in absentia by a Gacaca court in Huye District for masterminding the Genocide against the Tutsi in his native Tumba Sector in 1994.
Rwanda has since launched an extradition bid against the fugitive who has been in Malawian custody since late last year.
Rwanda's application to have Murekezi extradited was initially dismissed by Senior Resident Magistrate Chirwa, who in his ruling, said that the state was free to make a fresh extradition application once the process was regularised.
Malawi's minister for foreign affairs later signed an extradition treaty with Rwanda's minister for the extradition of Murekezi through Malawi's Magistrate Court.
However, Murekezi's lawyers, Wapona Kita and Gift Katundu opposed the application of the extradition treaty and subsequently applied for a judicial review, which the state wanted discharged by High Court.
But in her ruling on Wednesday, Judge Ruth Chinangwa argued that the case merits a judicial review by her court.
"This court finds the order granting leave for judicial review in order, as it seeks to examine the process and laws used in arriving at the said decision to extradite the applicant [Murekezi]," reads part of the judgement.
The state is yet to comment on how it will proceed pertaining to the current ruling on stopping the Magistrate to undertake matters of extradition and use of the extradition treaty on Murekezi.
Murekezi was arrested in December last year in Lilongwe where he had reportedly amassed wealth as a businessman, having evaded capture for several years.
Presently, he is serving his 5 year sentence on corruption at Maula prison in a separate case he lost from Malawi's Anti-Corruption Bureau (ACB).
Rwanda and Malawi signed an extradition treaty in February this year paving way for the possible extradition of Murekezi, who used a number of forged documents to obtain a Malawian citizenship.
In case he is extradited, Murekezi could be retried in courts of law, since he was not around when the Gacaca courts tried and convicted him.